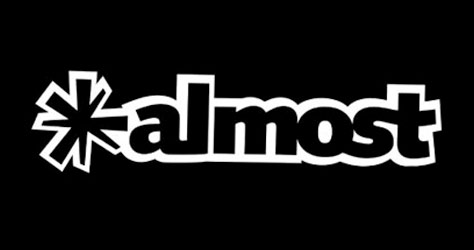 Almost Skateboards was started around 2003. It was largely backed by Rodney Mullen and Daewon Song. These two have been creating and closing skateboard companies for years. They both were a part of A-Team. Then Daewon went on to start Deka. I think there might of been another brand in there somewhere, but all in all most of these brands were just after thoughts of the old Word Industries days.
A-Team was almost a hit. But Almost was a home run. I think it was because this was the first time they didn't take it too seriously. The went on to build an unstoppable skate team: Ryan Sheckler, Chris Haslam, Daewong Song, Cooper Wilt and Rodney Mullen.
While Almost was brewing, Rodney Mullen was secretly developing the most technically advanced skateboard products the world of skateboarding had ever known. He experiment with different materials, ply orientation and glues. If you are willing to spend a little extra cash, you might ride some of the best skateboards you ever put your feet on.
Company Website: almostskateboards.com
Instagram: @almostskateboards
Team for 2015:
RODNEY MULLEN
DAEWON SONG
CHRIS HASLAM
COOPER WILT
YOUNESS AMRANI
WILLOW
MITCHIE BRUSCO
Lewis Marnell (Forever a member – 1982-2013)
Decks for 2015 (until now):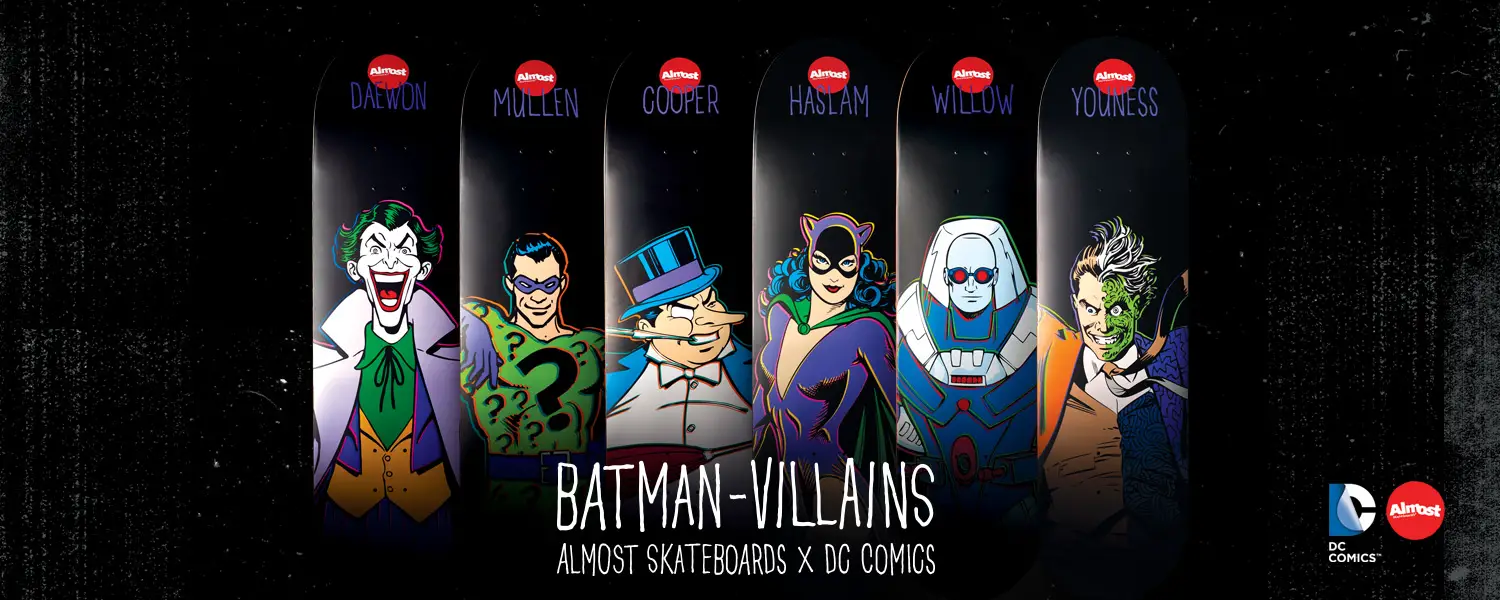 Batman-Villains (Almost Skateboards x DC Comics)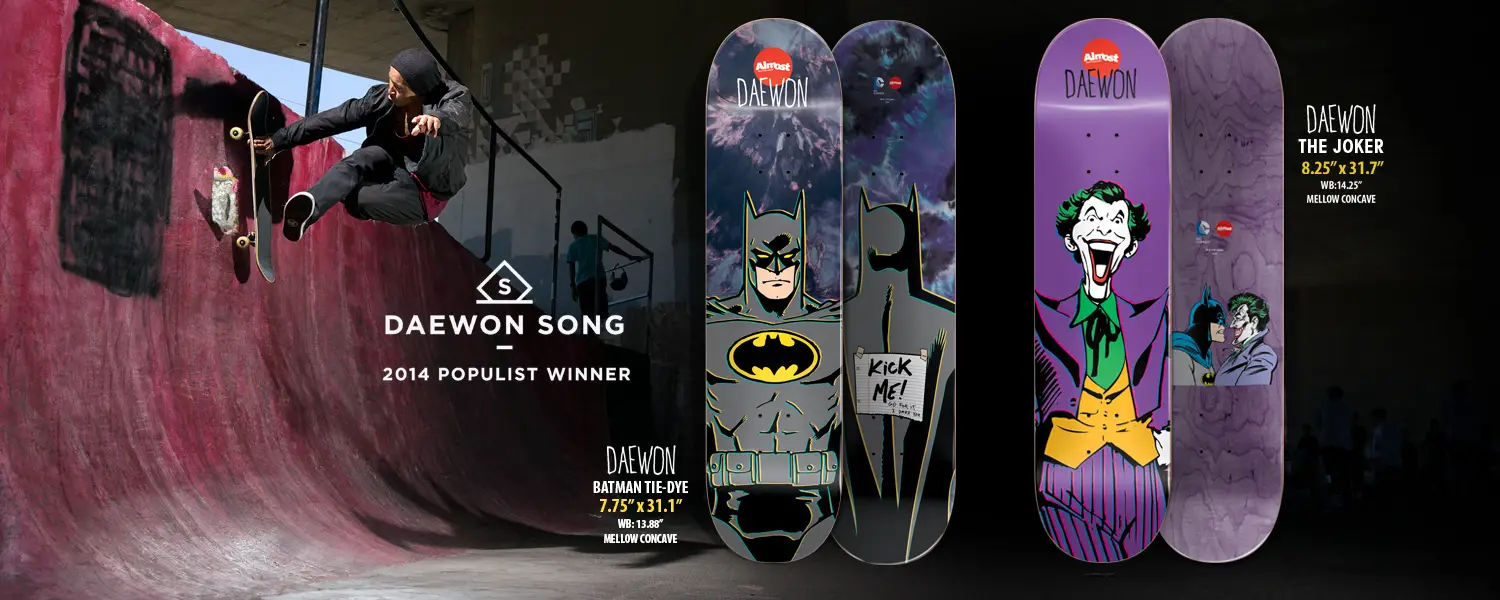 Daewon Batman Tie-Dye (7.75″ x 31.1″); Daewon The Joker (8.25″ x 31.7″)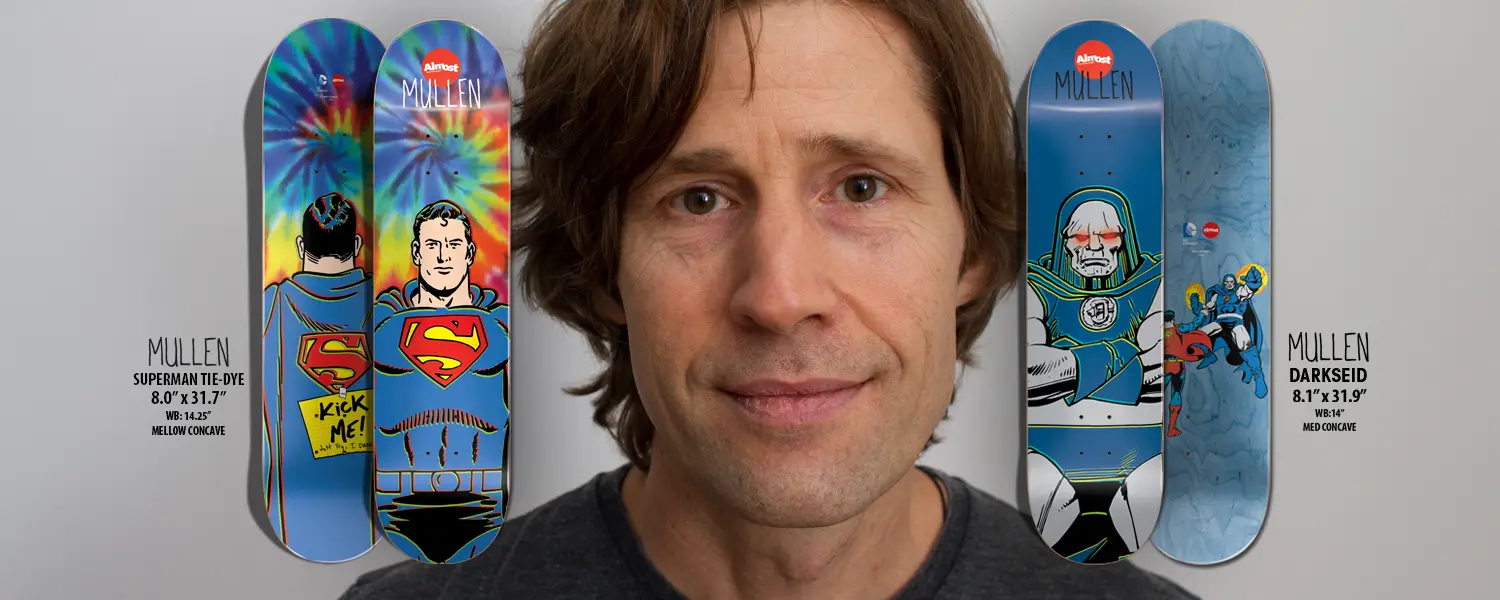 Mullen Superman Tie-Dye (8.0″ x 31.7″); Mullen Darkseid 8.1″ x 31.9″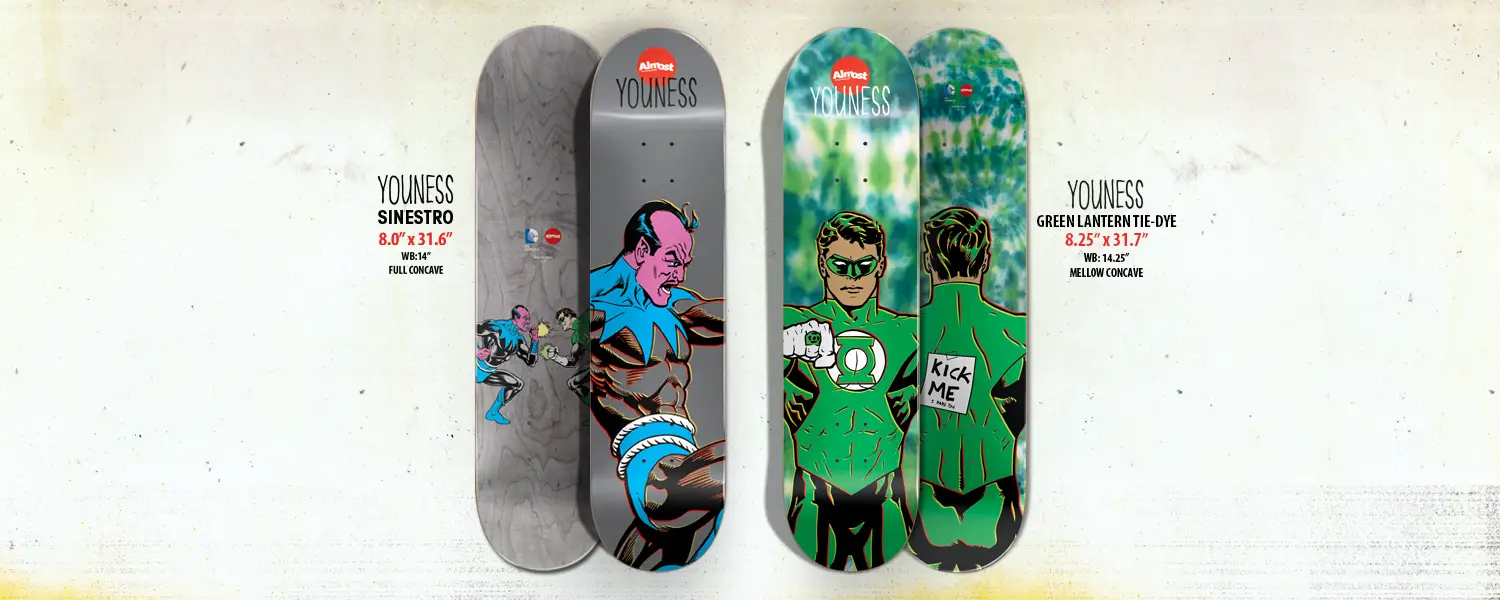 Youness Sinestro (8.0″ x 31.6″) x Youness Green Lantern Tie-Dye (8.25″ x 31.7″)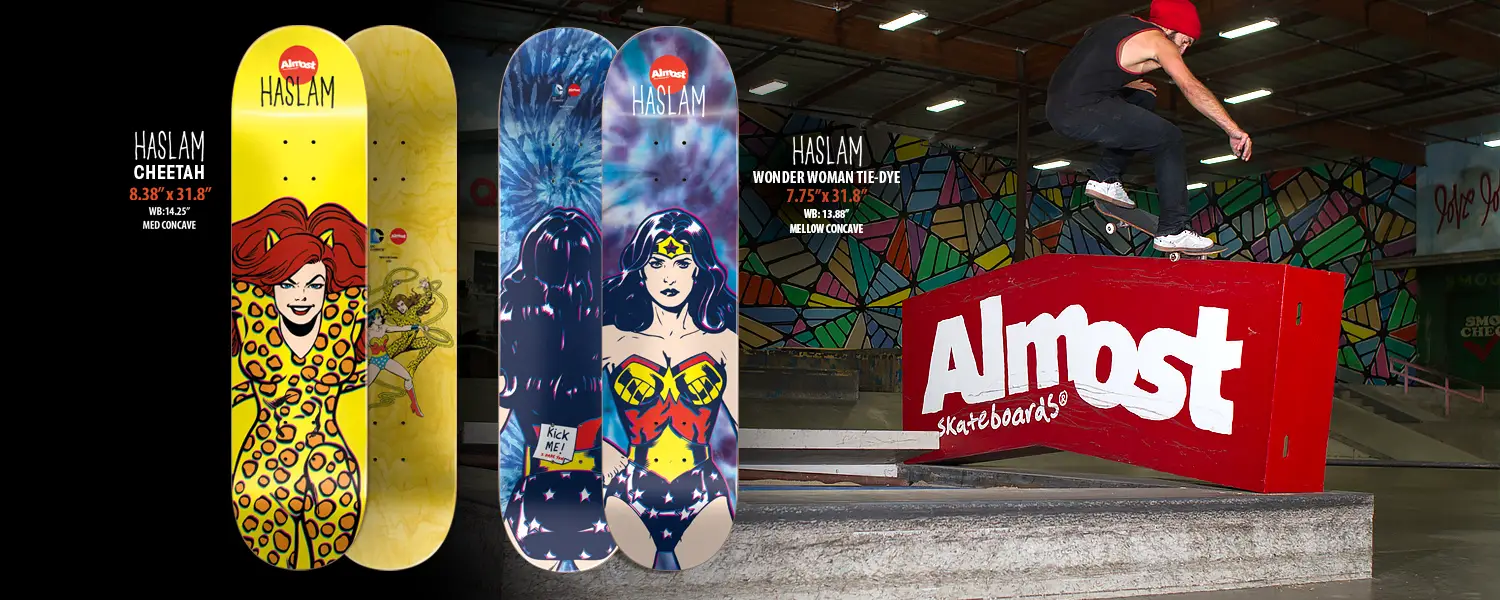 Haslam Cheetah (8.38″ x 31.8″); Haslam Wonder Woman Tie-Dye (7.75″ x 31.8″)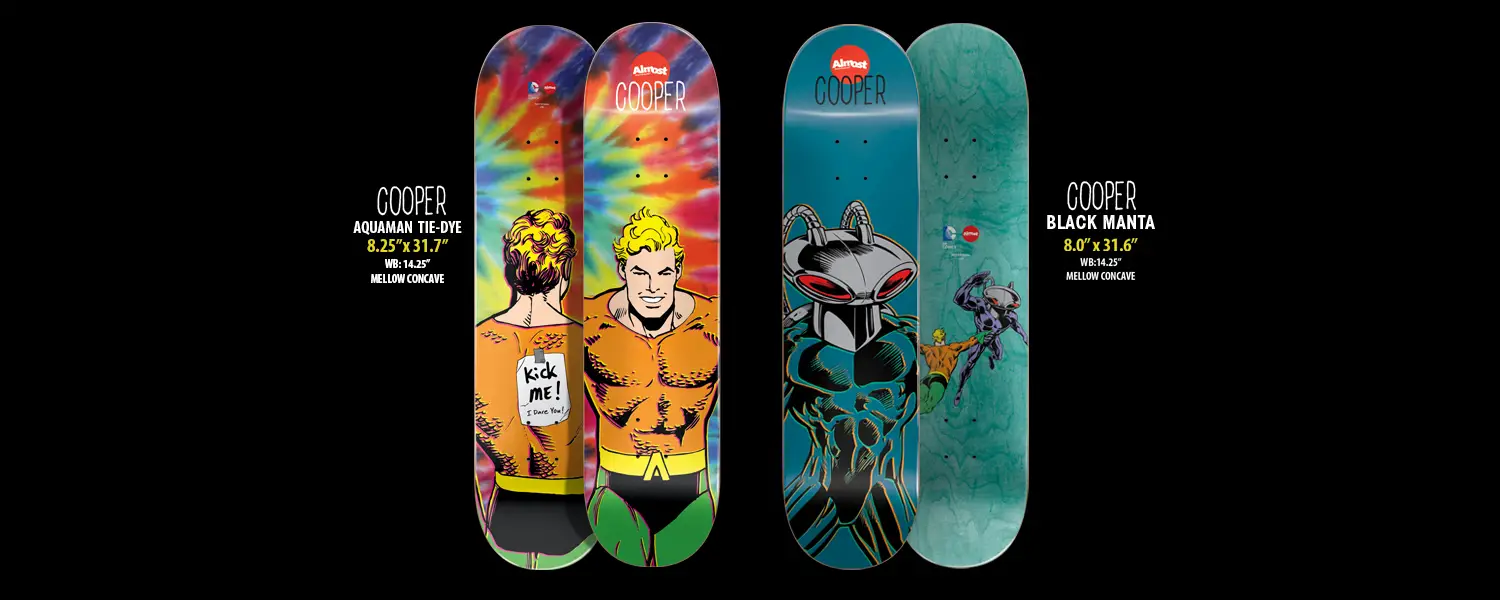 Cooper Aquaman Tie-Dye (8.25″ x 31.7″); Cooper Black Manta(8.0″ x 31.6″)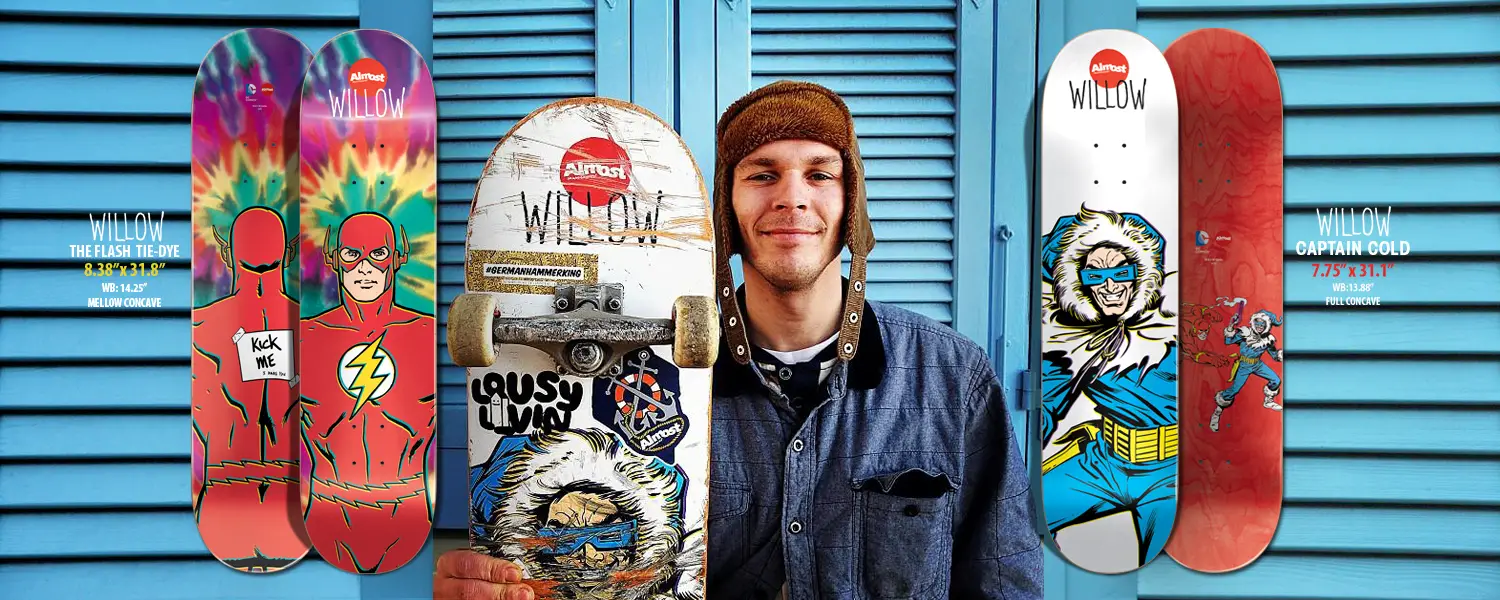 Willow The Flash Tie-Dye(8.38″ x 31.8:); Willow Captain Cold (7.75″ x 31.1″)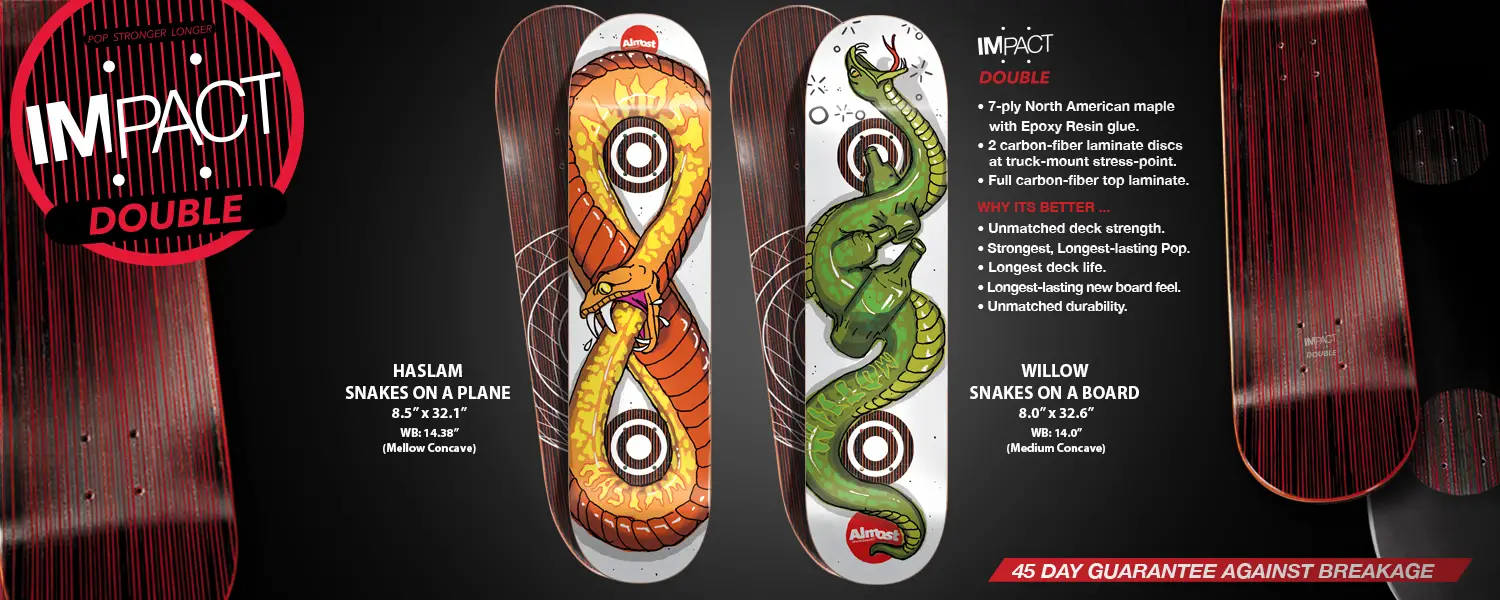 Haslam Snakes on a Plane (8.5″ x 32.1″); Willow Snakes on a Board (8.0″ x 32.6″)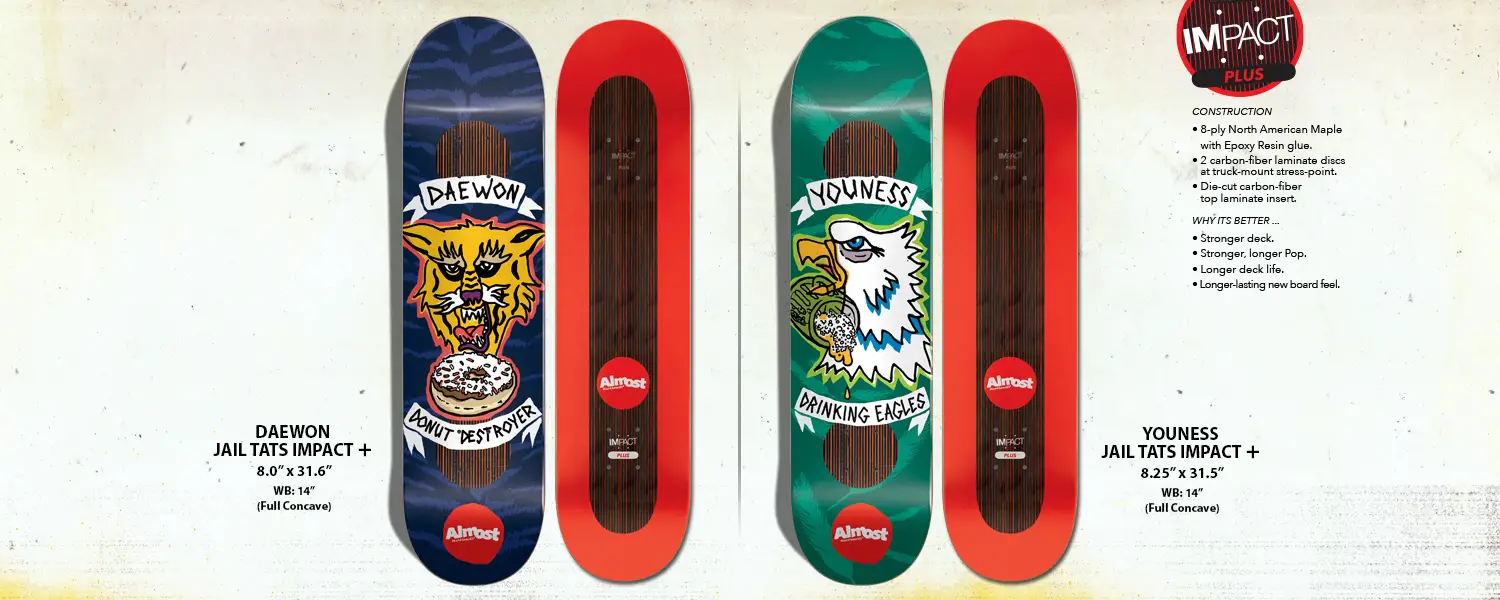 Daewon Jail Tats Impact + (8.0″ x 31.6″); Youness Jail Tats Impact + (8.25″ x 31.5″)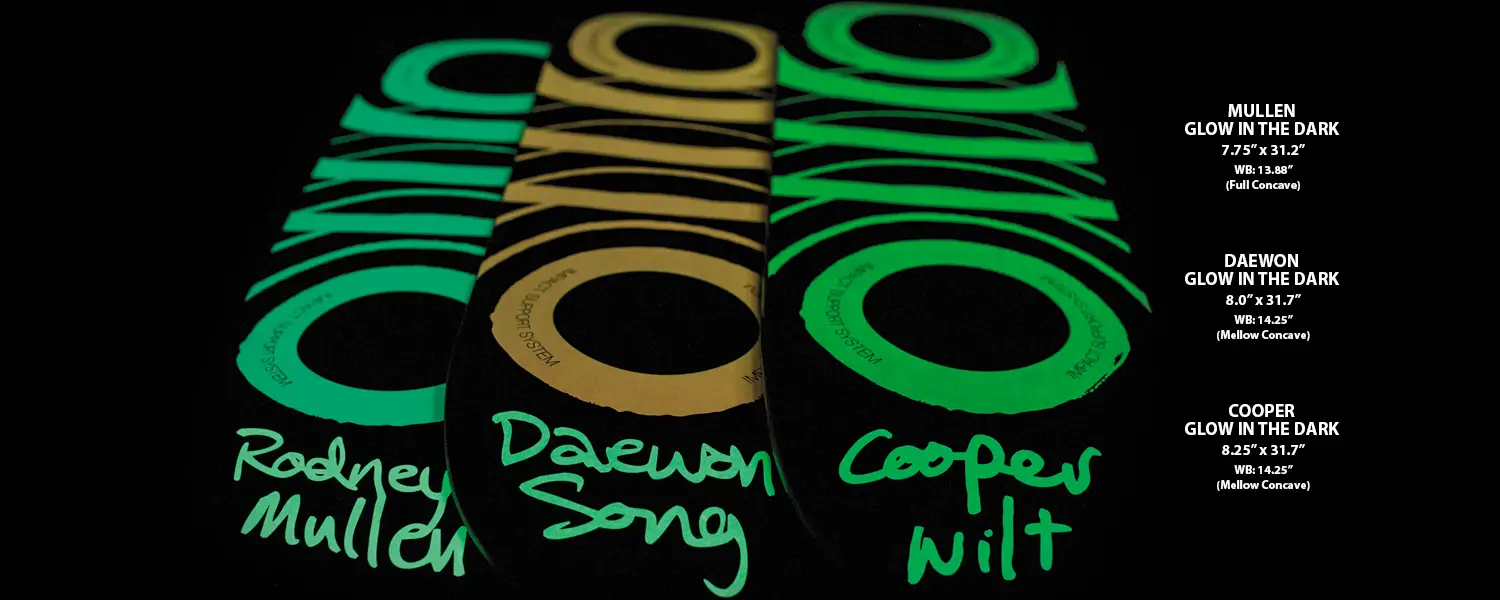 Mullen Glow in the Dark (7.75″ x 31.2″); Daewon Glow in the Dark (8.0″ x 31.7″); Cooper Glow in the Dark (8.25″ x 31.7″)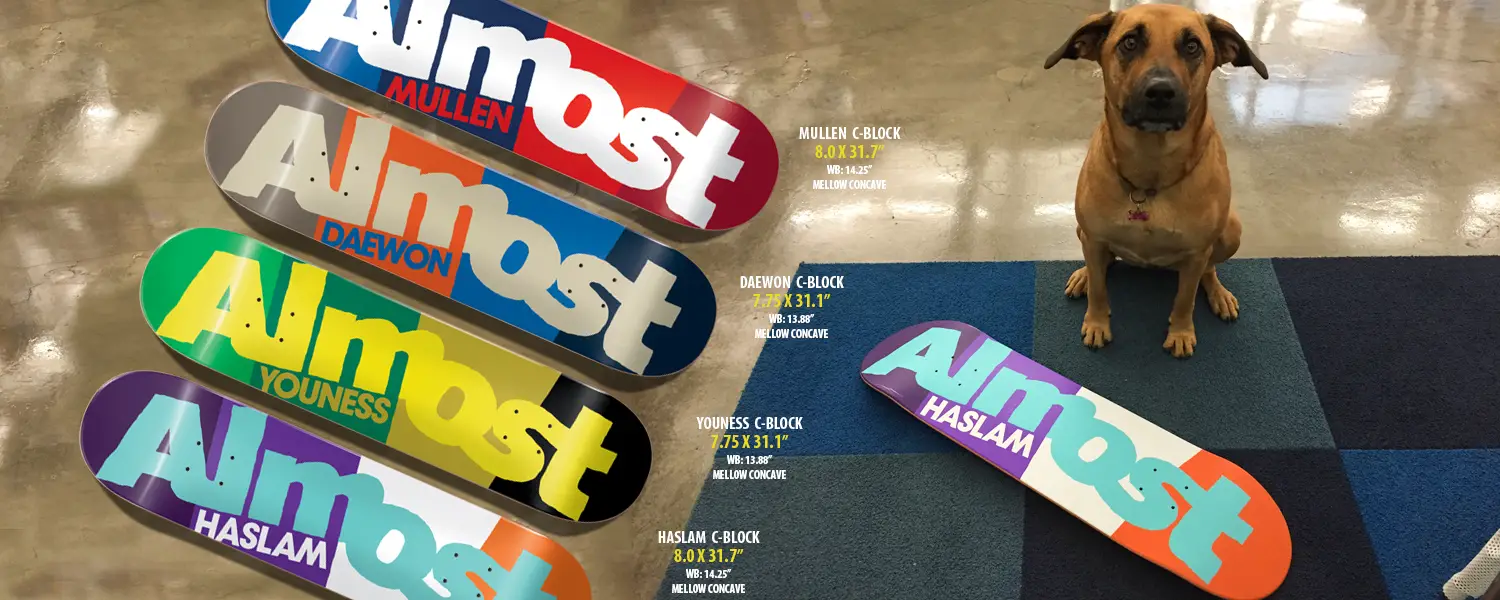 Mullen C-Block (8.0 x 31.7″); Daewon C-Block (7.75 x 31.7″); Youness C-Block (7.75 x 31.7″); Haslam C-Block (8.0 x 31.7″)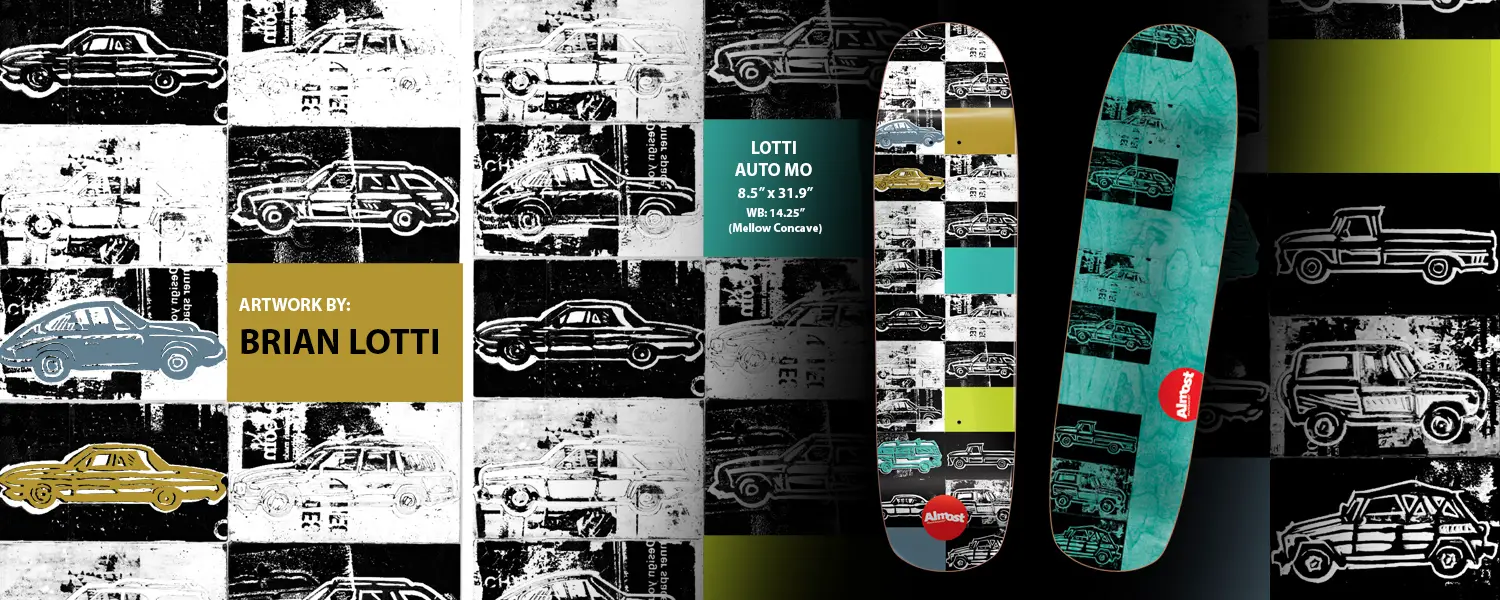 Lotti Auto Mo (8.5 x 31.9″)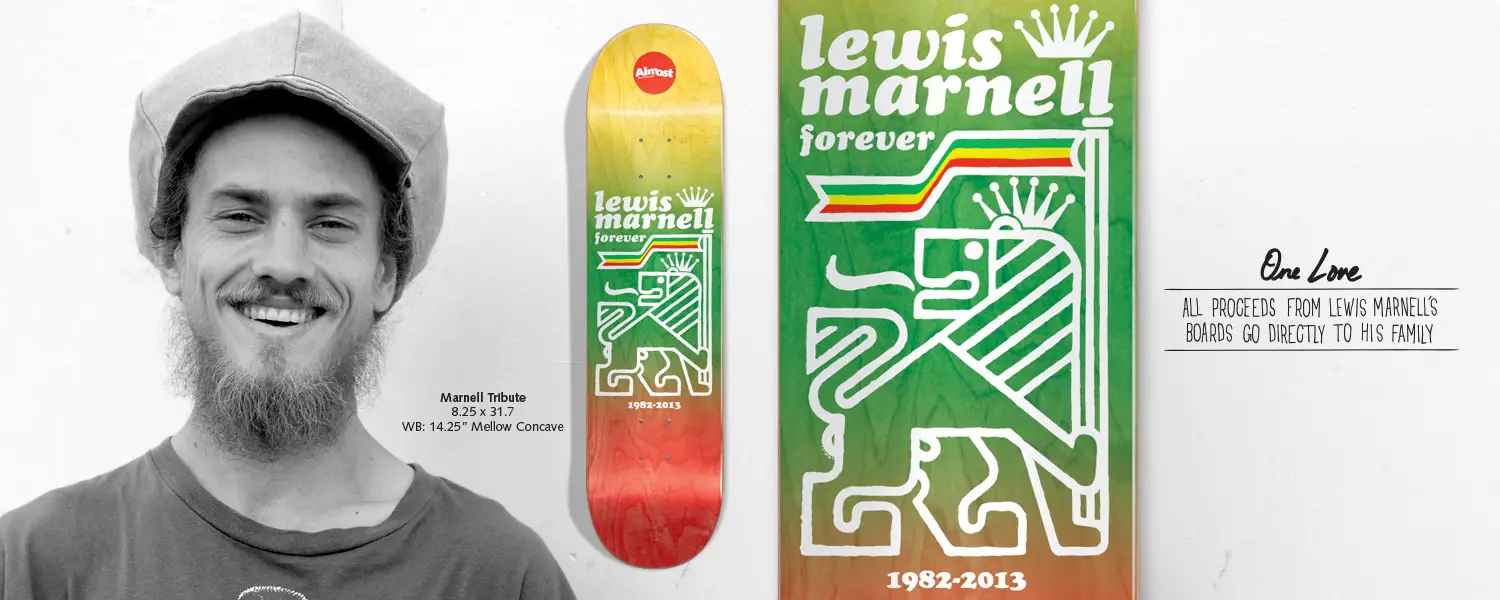 Marnell Tribute (8.25 x 31.7″)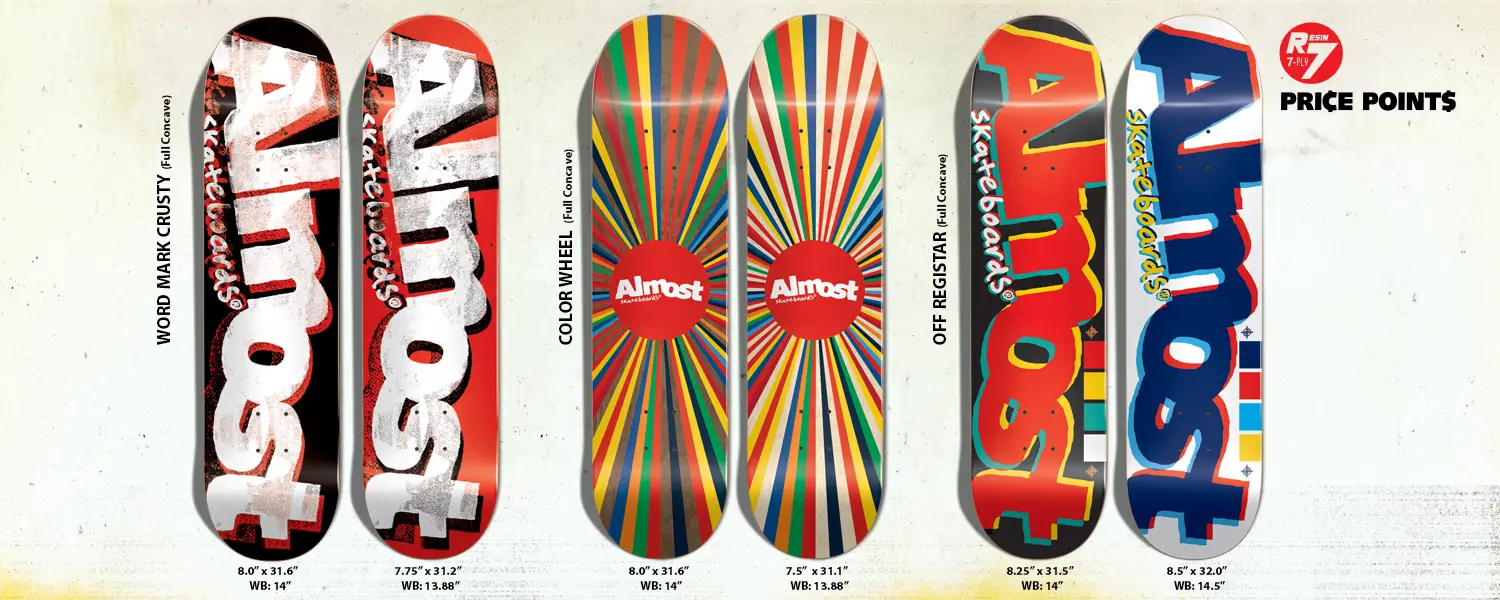 Word Mark Crusty, Color Wheel, Off Registar
Decks From Past Years
Almost Skateboard Decks From 2014
Almost Skateboards Decks From Way Back