Black Label
–
Black Label Skateboard Deck Omar Hassan Juxtapose Black 8.38″ x 32.5″
. You can't go wrong with this deck!
Pick it up today
.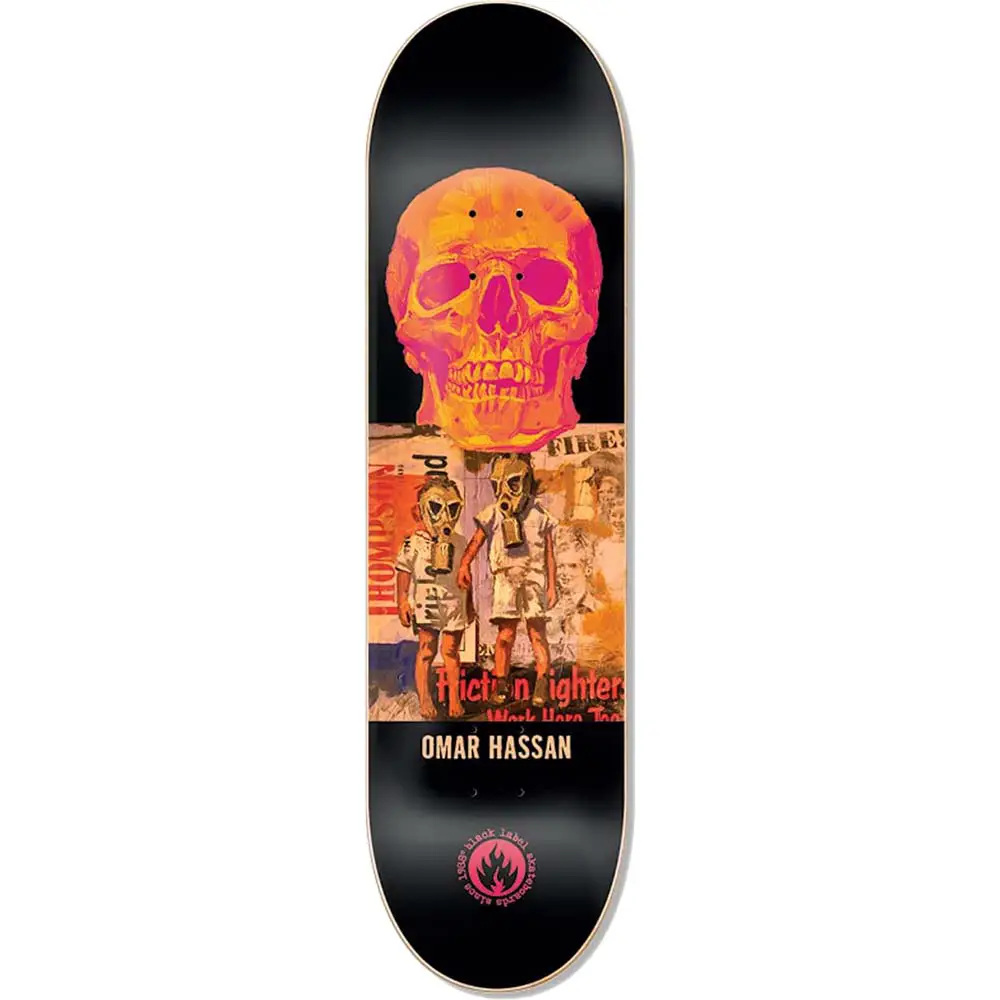 Black Label Skateboards was started in the early 1990s by professional skateboarder John Lucero. This brand caters to street and pool skaters. The one big advantage to buying a Black Label board is the quality you get. We have been selling Black Label for ten years now and we have noticed that they make a very quality deck. They have various construction techniques like PowerBeam, BlackHole, and Econoline.
Black Label Skateboards is located in Costa Mesa California. It turns out there are a few other brands located right in the same neighborhood. You got Volcom down the street, Vision, and ACME skateboards as well. You'll notice certain skateboard brands and manufactures will then to clump together in the same neighborhoods. I'm sure a lot of industries do that as well. Some of the major skateboard city states are: El Segundo, Torrance, Huntington Beach, Santa Ana, Costa Mesa, Encinitas, San Diego/Poway and San Francisco.
Black Label Skateboard Decks for 2014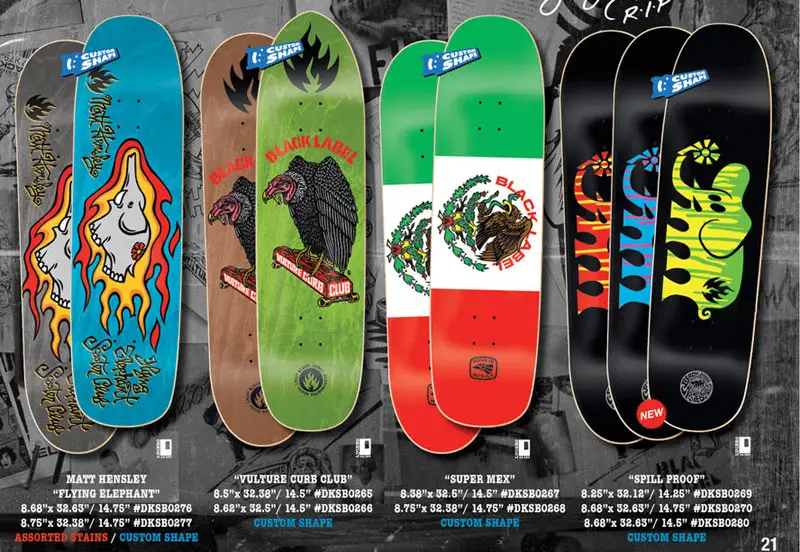 Matt Hensley Flying Elephant 8.68″ x 32.63″/14.75″; 8.75″ x 32.38″/14.75″, Vulture Curb Club 8.6″ x 38.38″/14.5″; 8.62″ x 32.6″ x 14.5″, &.38″ x 32.5″/14.5″; 8.75″ x 32.38″/14.75″, Spill Proof 8.25″ x 32.12″/14.25″; 8.68″ x 32.63″/14.75″; 8.68″ x 32.63″/14.5″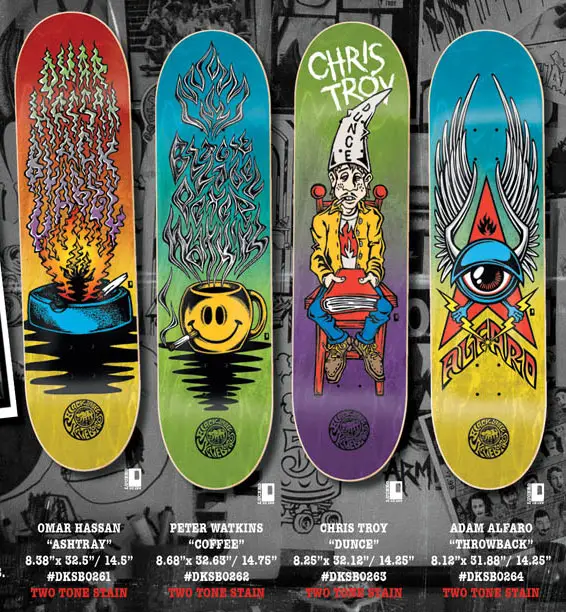 Omar Hassan "Ashtray" 8.38″ x 32.5″/14.5″, Peter Watkins "Coffee" 8.68″ x 32.63″/14.75″, Chris Troy "Dunce" 8.25″ x 32.12″/14.25″, Adam Alfaro "Throwback" 8.12″ x 31.8″/14.25″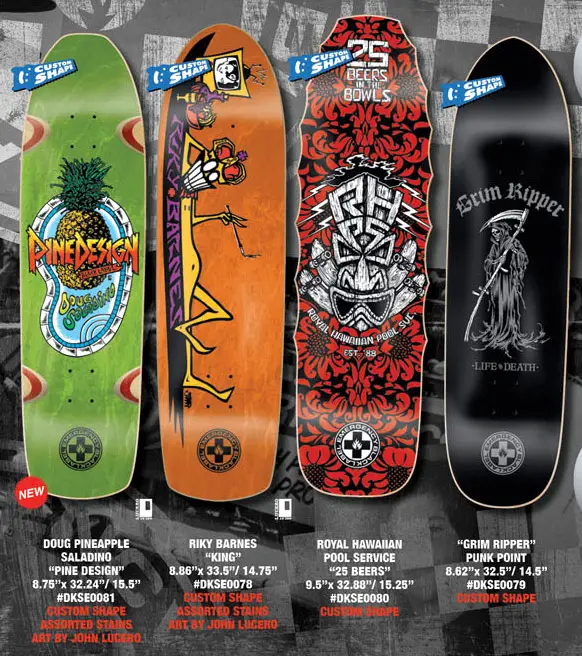 Doug Pineapple Saladino "Pine Design" 8.75″ x 32.24″/15.5″, Riky Barnes "King" 8.86″ x 33.5″/14.75″, Royal Hawaiian Pool Service "25 Beers" 9.5″ x 32.88″/15.25″, "Grim Ripper" Punk Point 8.62″ x 32.5″/14.5″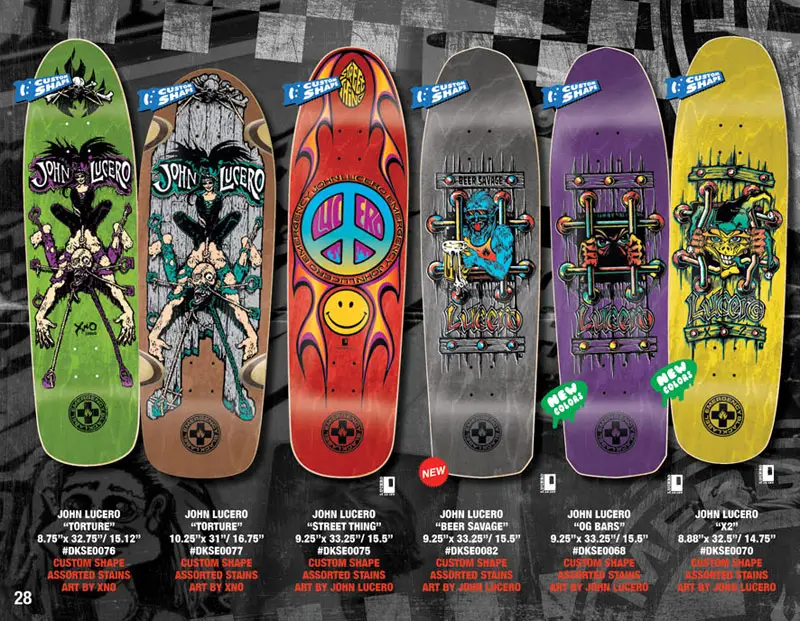 John Lucero "Torture" 8.75″ x 32.75″/15.12″, John Lucero "Torture" 10.25″ x 31″/16.75″, John Lucero "Street Thing" 9.25″ x 33.25″/15.5″, John Lucero "Beer Savage" 9.25″ x 33.25″/15.5″, John Lucero "OG Bars" 9.25″ x 33.25″/15.5″, John Lucero "X2″ 8.88″ x 32.5″/14.75"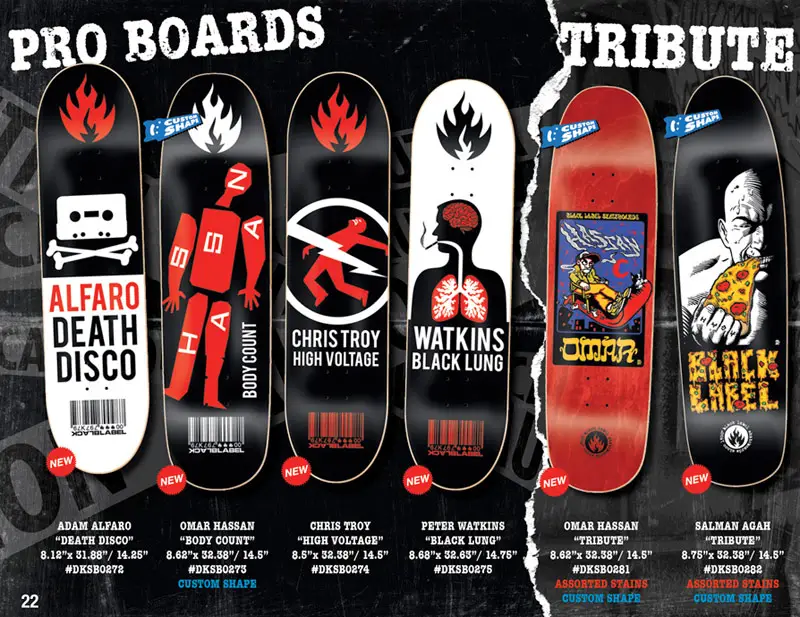 Adam Alfaro "Death Disco" 8.12″ x 31.88″/14.25″, Omar Hassan "Body Count" 8.62″ x 32.38″/14.5″, Chris Troy "High Voltage" 8.5″ x 32.38″/14.6″, Peter Watkins "Black Lung" 8.68″ x 32.63″/ 14.75″, Omar Hassan "Tribute" 8.62″ x 32.38″/ 14.5″, Salman Agah "Tribute" 8.75″ x 32.38″/ 14.5″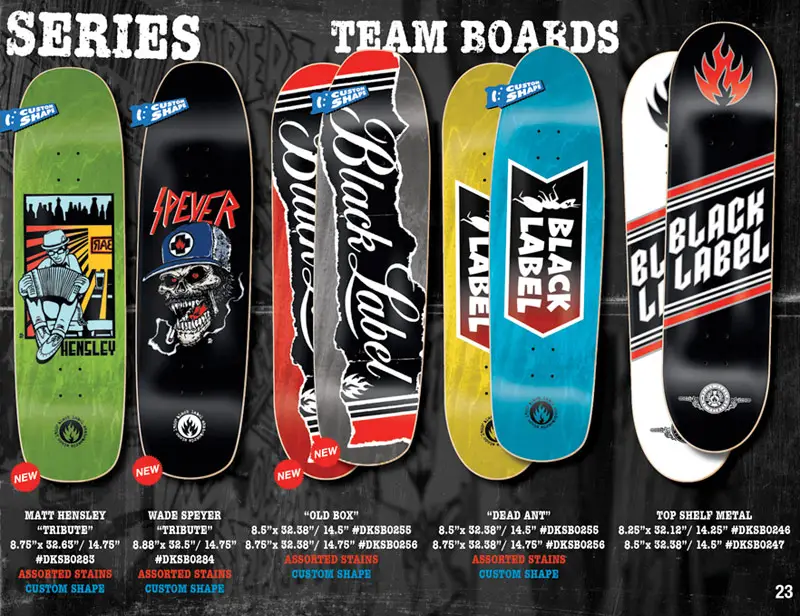 Matt Hensley "Tribute" 8.75″ x 32.63″/ 14.75″, Wade Speyer "Tribute" 8.88″ x 32.5″/14.75″, "Old Box" 8.5″ x 32.38″/ 14.5″; 8.75 x 32.38″/ 14.75″, "Dead Ant" 8.5″ x 32.38″/ 14.5″; 8.75″ x 32.38″/ 14.75″, Top Shelf Metal 8.25″ x 32.12″/ 14.25″, 8.5″ 32.38″/ 14.5″
2015 Decks (up until now):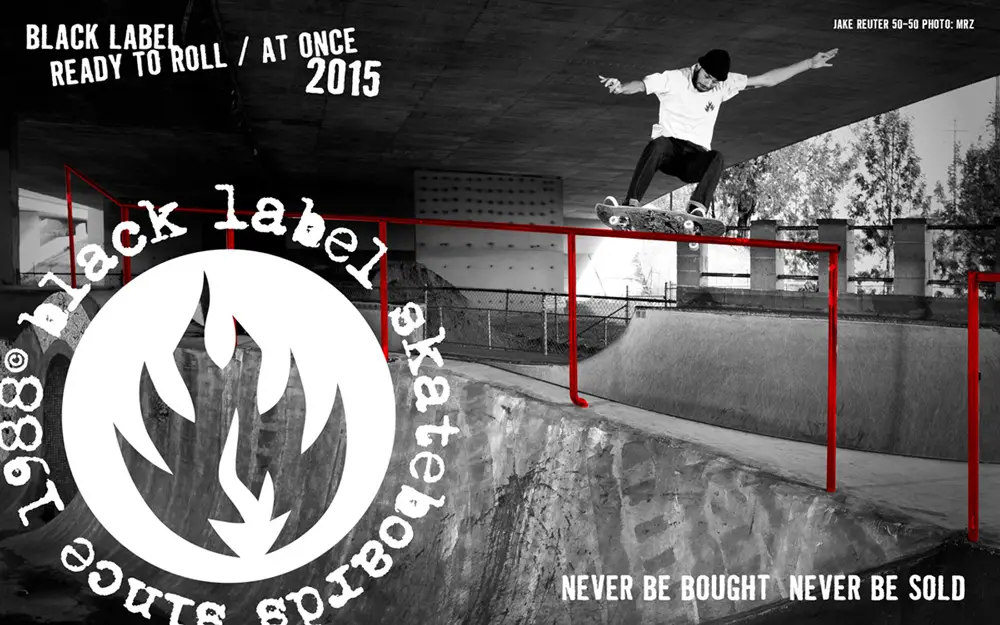 Ready to Roll 2015 Catalog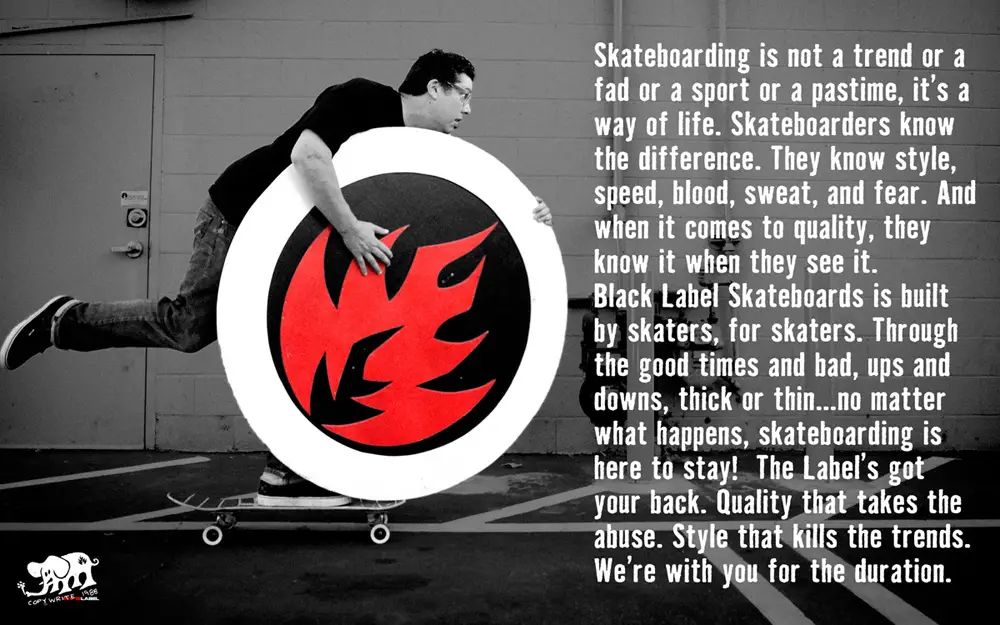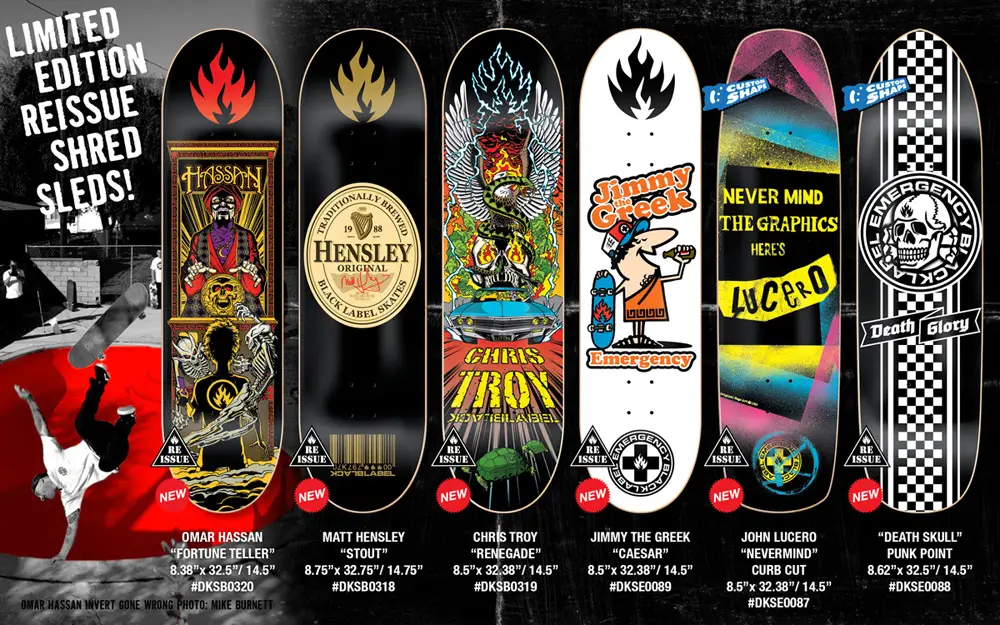 Omar Hassan "Fortune Teller", Matt Hensley "Stout", Chris Troy "Renegade", Jimmy the Greek "Caesar", John Lucero "Nevermind" Curb Cut, "Death Skull" Punk Point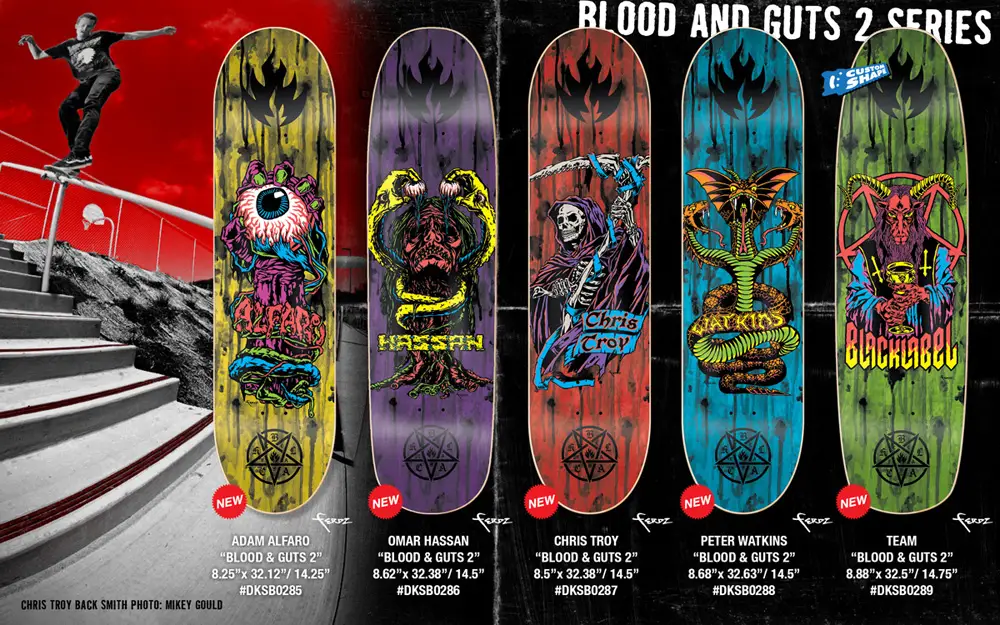 Adam Alfaro "Blood & Guts 2", Omar Hassan "Blood & Guts 2", Chris Troy "Blood & Guts 2", Peter Watkins "Blood & Guts 2", Team "Blood & Guts 2"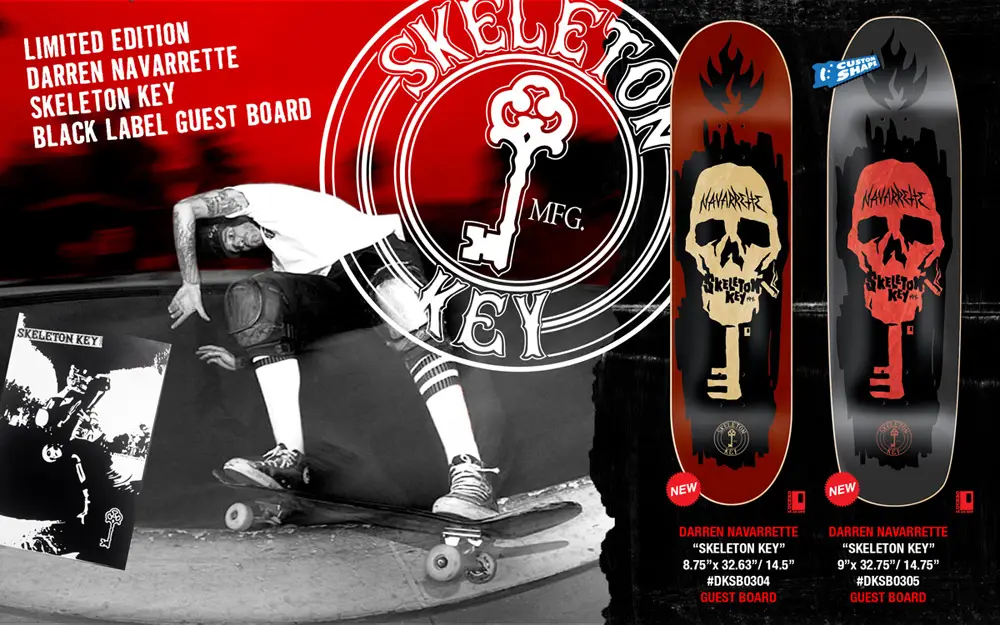 Darren Navarrette "Skeleton Key" (Red and Black)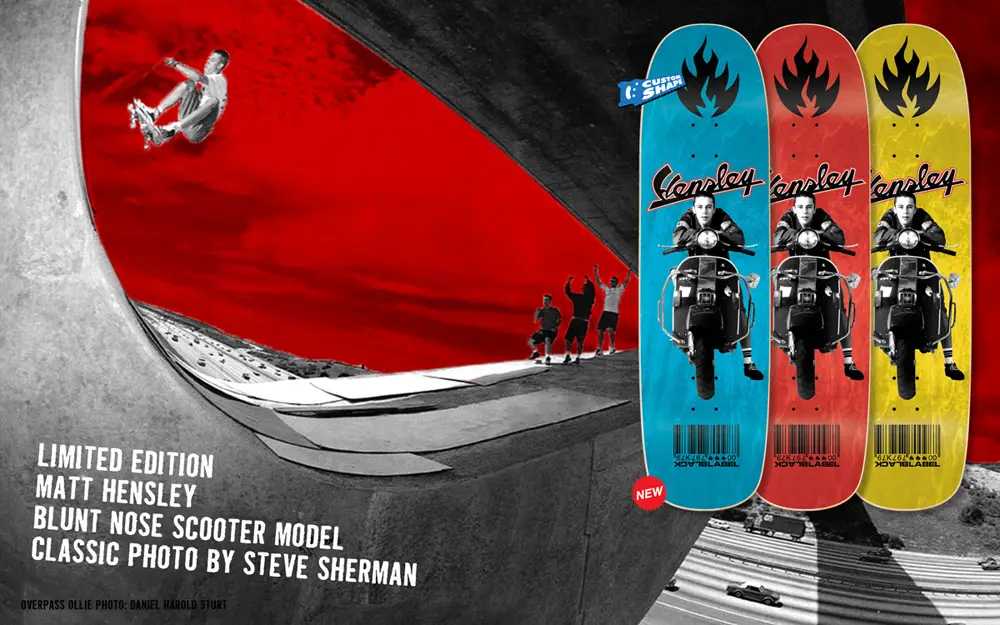 Limited Edition Matt Hensley – Blunt Nose Scooter Model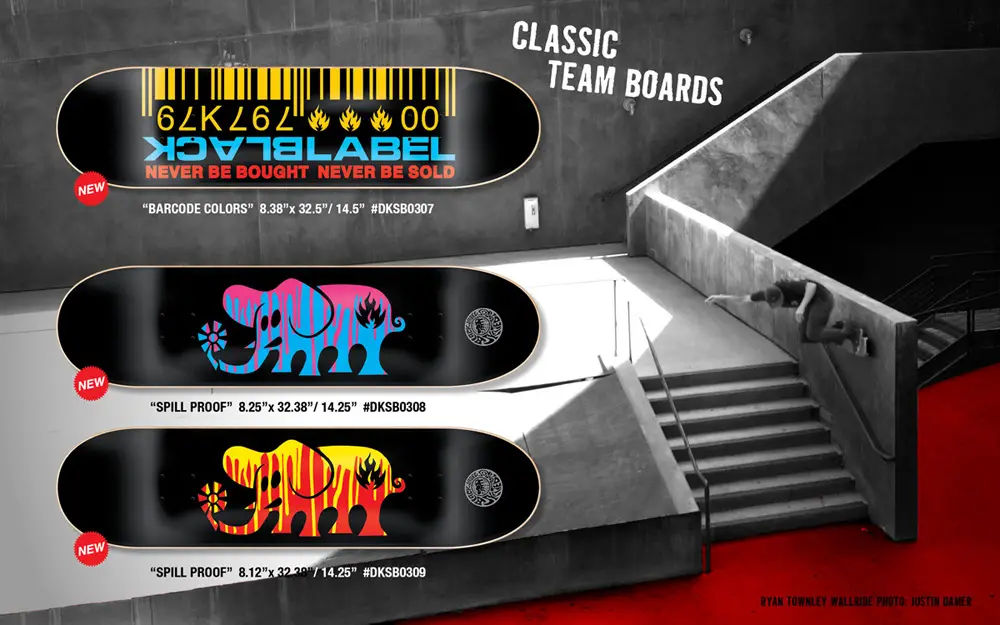 Barcode Colors, Spill Proof 1, Spill Proof 2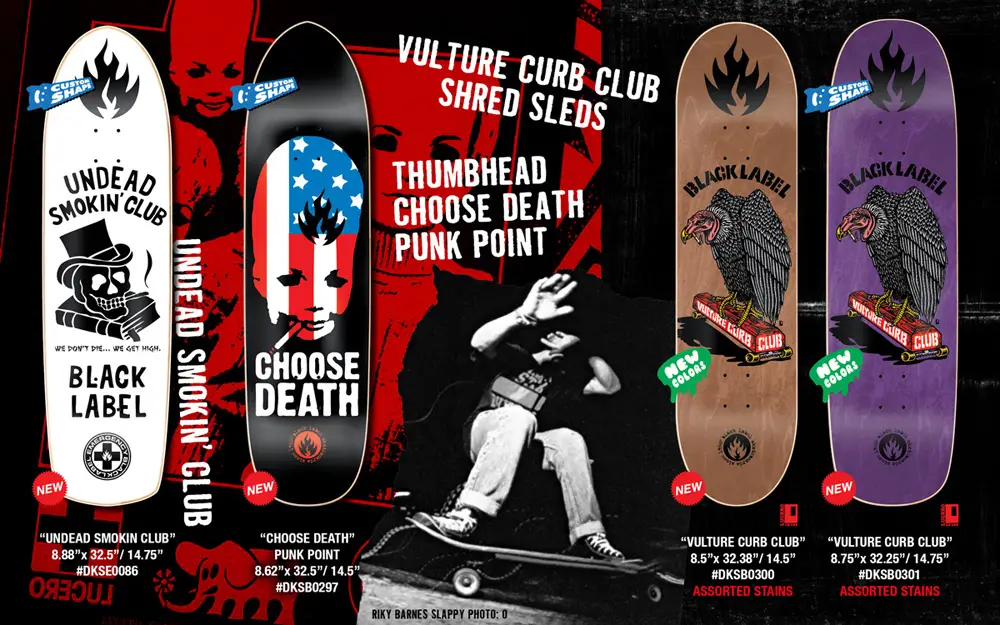 Undead Smokin Club, "Choose Death" Punk Point, Vulture Curb Club 1, Vulture Curb Club 2
Top Shelf "Gold Foil", Top Shelf "Red Foil", Top Shelf "Blue Foil"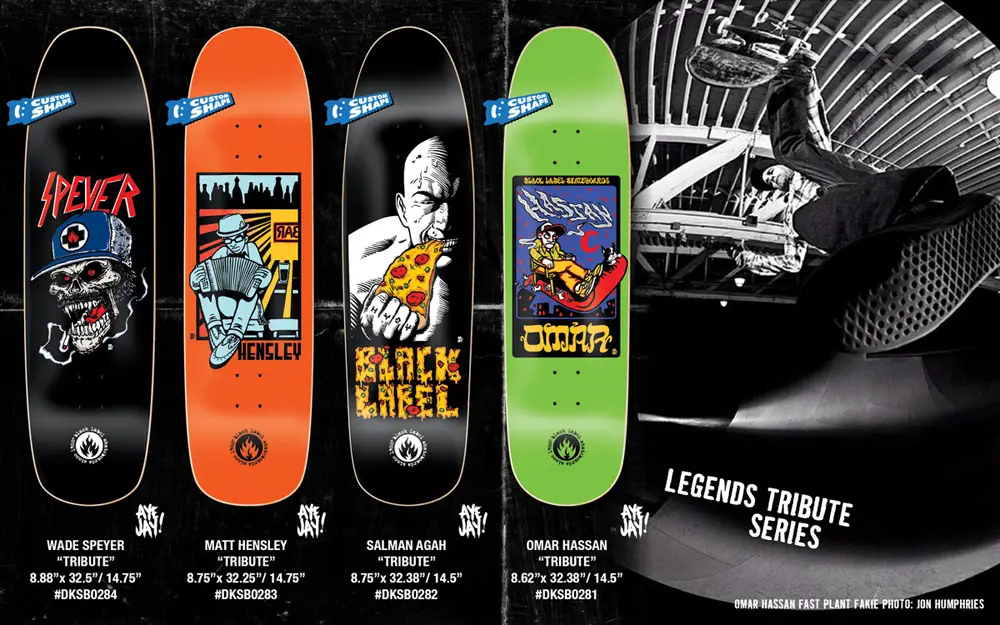 Wade Speyer "Tribute", Matt Hensley "Tribute", Salman Agah "Tribute", Omar Hassan "Tribute"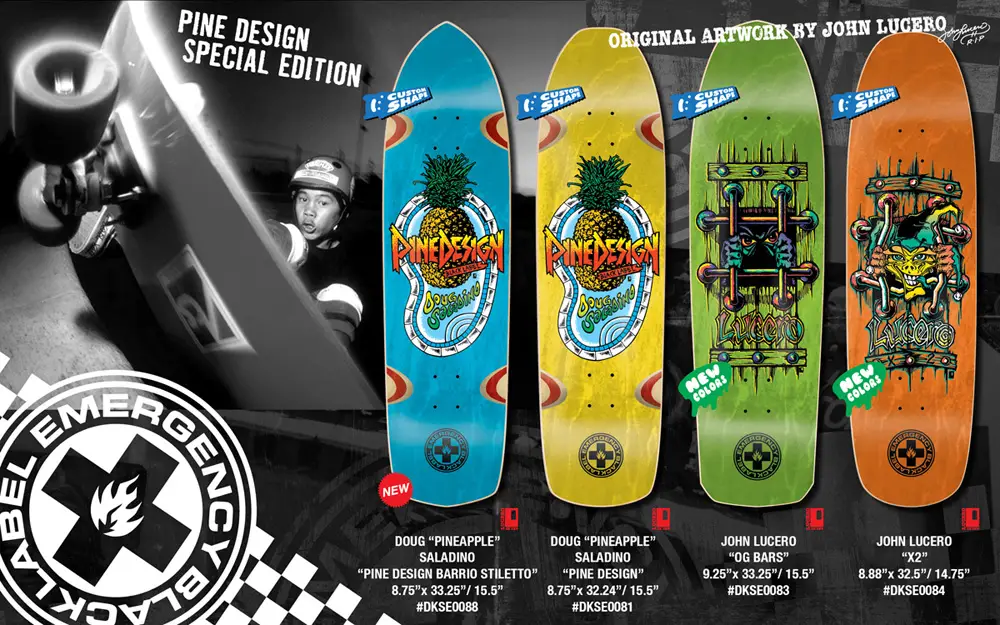 Doug "Pineapple" Saladino "Pine Design Barrio Stiletto", Doug "Pineapple" Saladino "Pine Design", John Lucero "OG Bars", John Lucero "X2"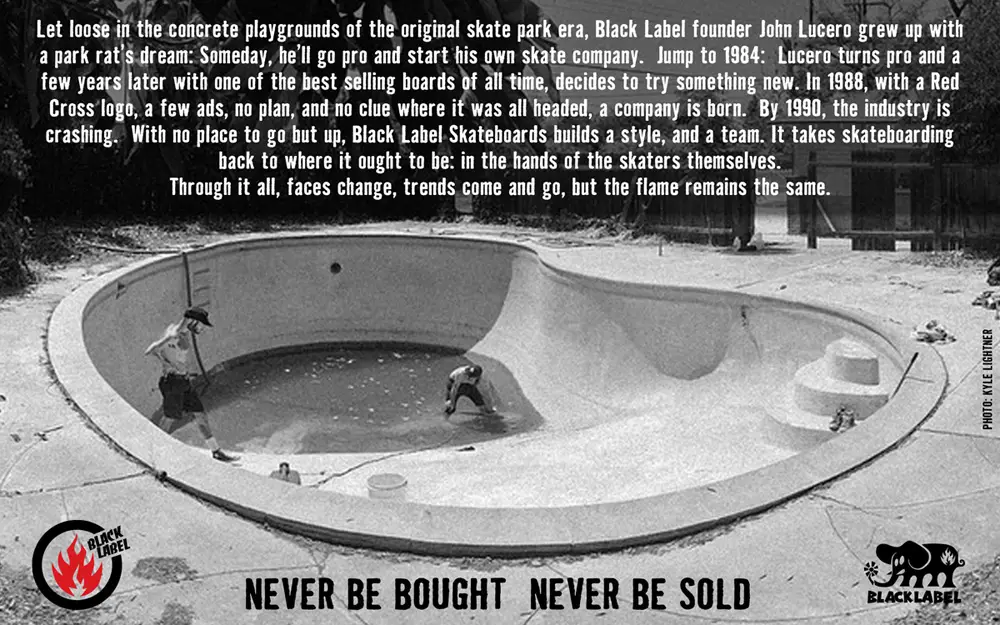 Black Label Skateboard Decks From Years Past