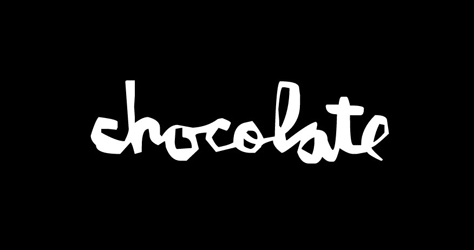 Website: chocolateskateboards.com
Instagram: Instagram
Chocolate
–
Mad 8 Ball One Off Skateboard Deck – Tershy – 8.25″
. You can't go wrong with this deck!
Pick it up today
.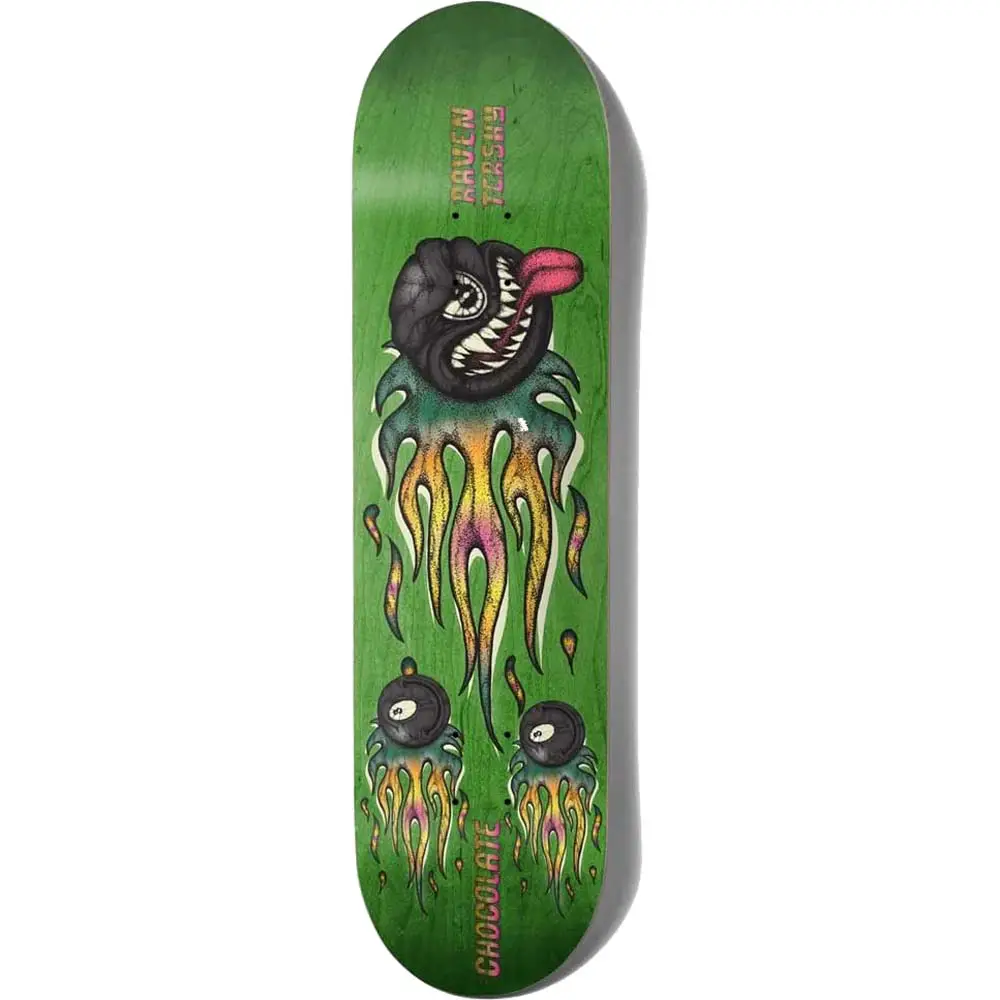 Chocolate Skateboards is kind of like Girl Skateboards Part II. But I'm sure they would hate for us to say that. But c'mon every Girl Skateboard video has a Chocolate part in it and it's really head out of the same distribution so it really is Girl Part II. But that's not a bad thing. Chocolate has always had a unique team of some very smooth skaters.
The interesting thing you will notice when you compare Chocolate to brands like Zero and Baker is that, they don't really care about skating big stuff. They are more interested in their skating style and technical abilities.
For years we have always been saying that Chocolate and Girl decks have a very unique shape. They never have too much concavity, and they tend to have shorter tails than most decks. These subtle differences can make huge changes in your skate-a-bility. From what we hear, your flip tricks MAY come off a bit easier if you switch to a Girl or Chocolate skateboard.
Chocolate Skateboards History
This is an awesome video by Vice on the history of Chocolate. It really gets into the nitty-gritty.
2021 Team:
Erik Herrera
Carl Aikens
James Capps
Chocolate Skateboards Decks for 2021
















































Chocolate Skateboards Decks for 2014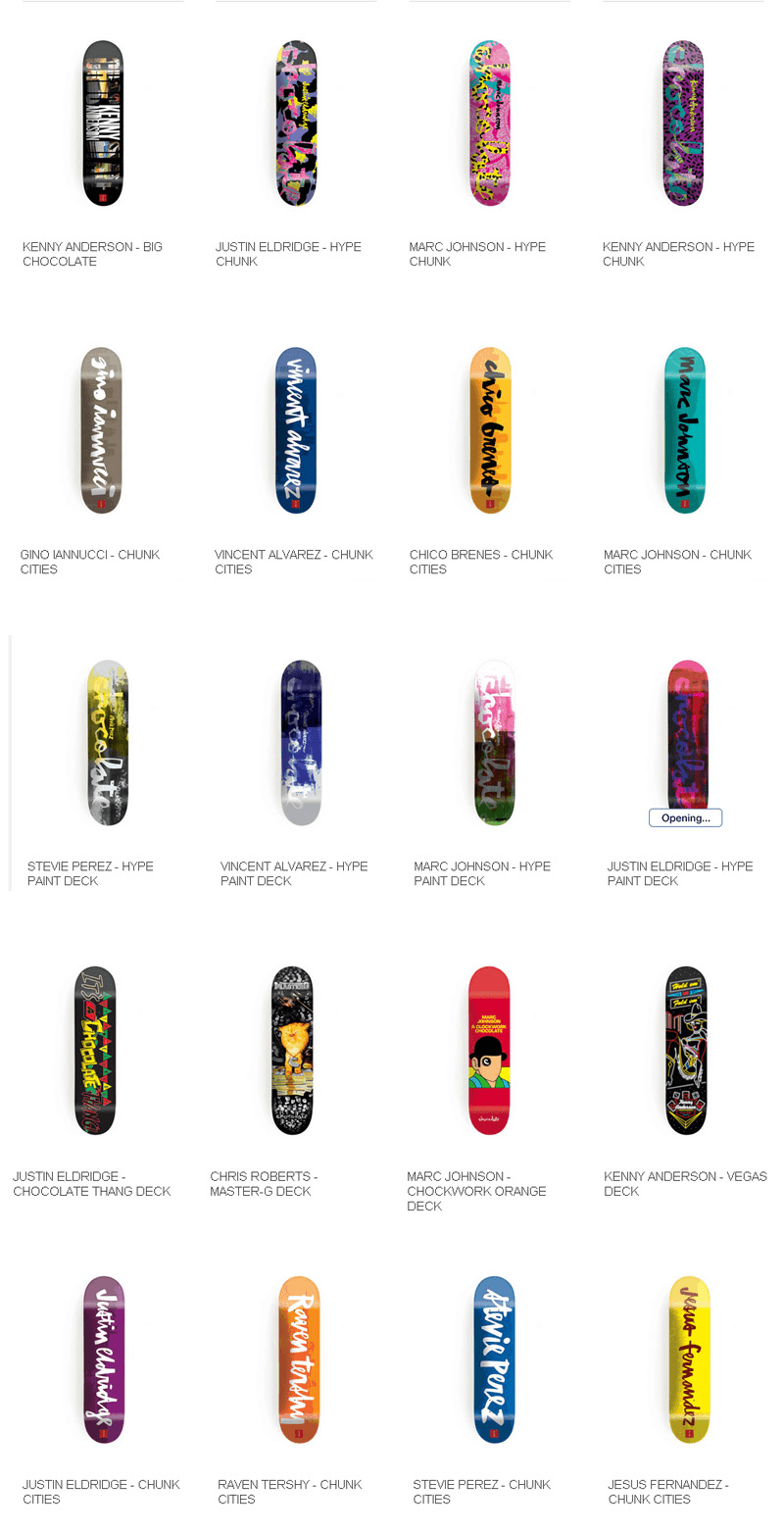 Kenny Andreson – Big Chocolate, Justin Eldridge – Hype Chunk, Marc Johnson – Hype Chunk, Kenny Anderson – Hype Chunk, Gino Iannucci – Chunk Cities, Vincent Alvarez – Chunk Cities, Chico Brenes – Chunk Cities, Marc Johnson – Chunk Cities, Stevie Perez – Hype Paint Deck, Vincent Alvarez – Hype Paint Deck, Marc Johnson – Hype Paint Deck, Justin Eldridge – Hype Paint Deck, Justin Eldridge – Chocolate Thang Deck, Chris Roberts – Master-G Deck, Marc Johnson – Chockwork Orange Deck, Kenny Anderson – Vegas Deck, Justin Eldridge – Chunk Cities, Raven Tershy – Chunk Cities, Stevie Perez – Chunk Cities, Jesus Fernandez – Chunk Cities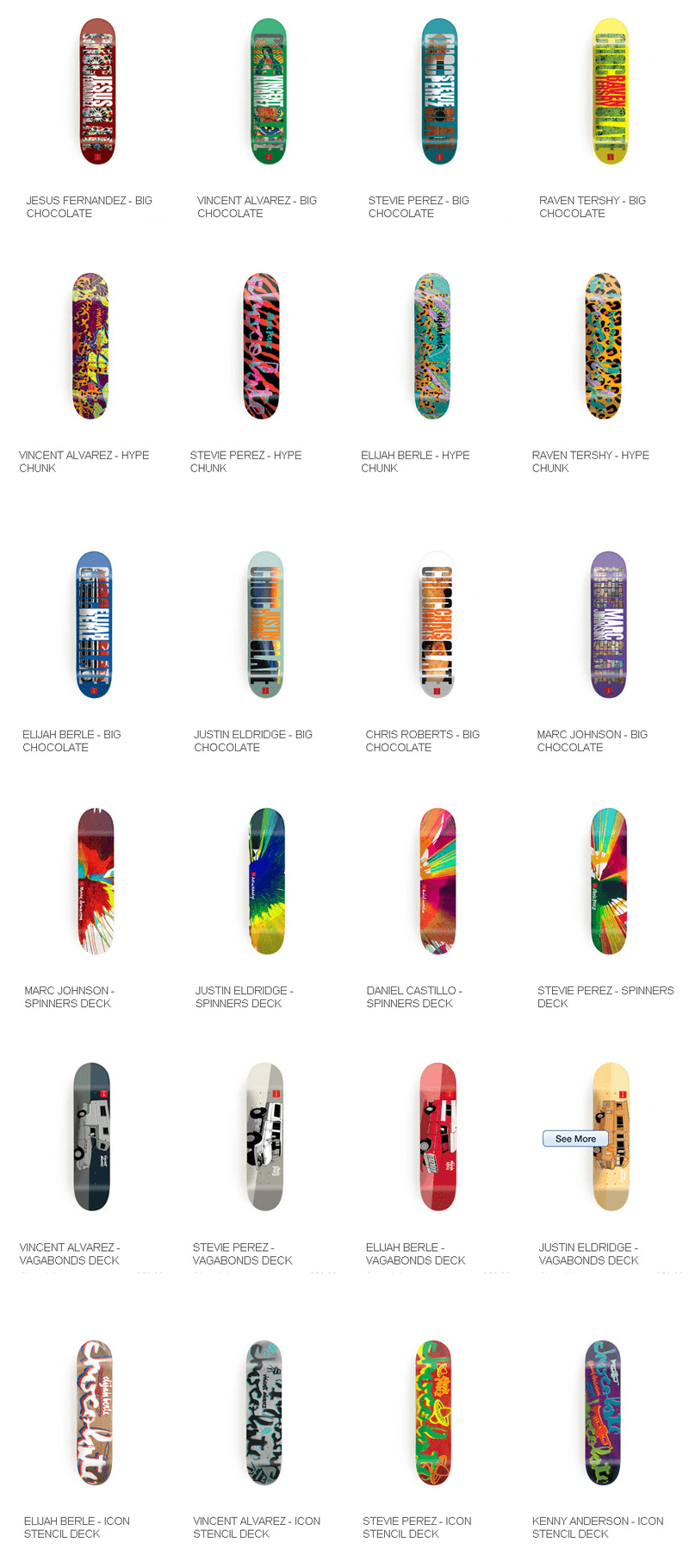 Jesus Fernandez – Big Chocolate, Vincent Alvarez – Big Chocolate, Stevie Perez – Big Chocolate, Raven Tershy – Big Chocolate, Vincent Alvarez – Hype Chunk, Stevie Perez – Hype Chunk, Elijah Berle – Hype Chunk, Raven Tershy – Hype Chunk, Elijah Berle – Big Chocolate, Justin Eldridge – Big Chocolate, Chris Roberts – Big Chocolate, Marc Johnson – Big Chocolate, Marc Johnson – Spinners Deck, Justin Eldridge – Spinners Deck, Daniel Castillo – Spinners Deck, Stevie Perez – Spinners Deck, Vincent Alvarez – Vagabonds Deck, Stevie Perez – Vagabonds Deck, Elijah Berle – Vagabonds Deck, Justin Eldridge – Vagabonds Deck, Elijah Berle – Icon Stencil Deck, Vincent Alvarez – Icon Stencil Deck, Stevie Perez – Icon Stencil Deck, Kenny Anderson – Icon Stencil Deck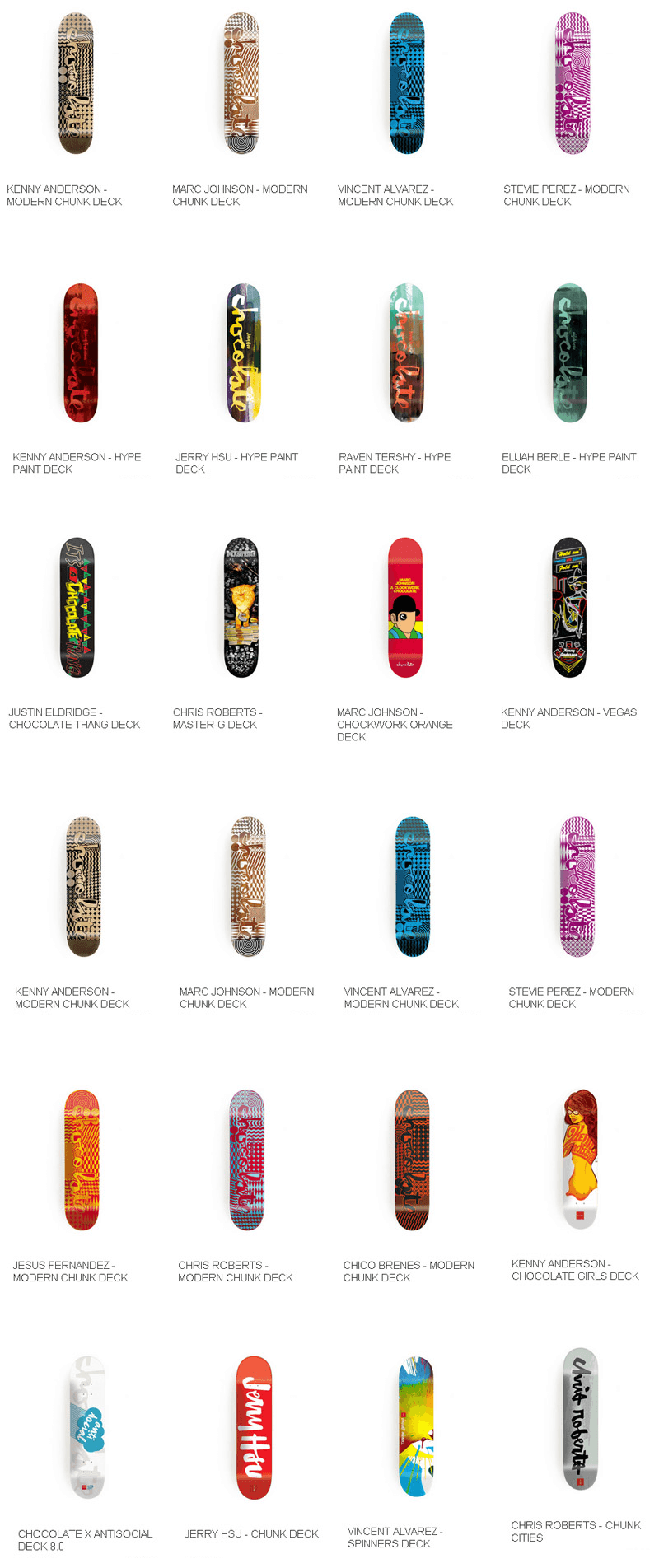 Kenny Anderson – Modern Chunk Deck, Marc Johnson – Modern Chunk Deck, Vincent Alvarez – Modern Chunk Deck, Stevie Perez – Modern Chunk Deck, Kenny Anderson – Hype Paint Deck, Jerry Hsu – Hype Paint Deck, Raven Tershy – Hype Paint Deck, Elijah Berle – Hype Paint Deck, Justin Eldridge – Chocolate Thang Deck, Chris Roberts – Master-G Deck, Marc Johnson – Chockwork Orange Deck, Kenny Anderson – Vegas Deck, Kenny Anderson – Modern Chunk Deck, Mark Johnson – Modern Chunk Deck, Vincent Alvarez – Modern Chunk Deck, Stevie Perez – Modern Chunk Deck, Jesus Fernandez – Modern Chunk Deck, Chris Roberts – Modern Chunk Deck, Chico Brenes – Modern Chunk Deck, Kenny Anderson – Chocolate Girls Deck, Chocolate x Antisocial Deck, Jerry Hsu – Chunk Deck, Vincent Alvarez – Spinners Deck, Chris Roberts – Chunk Cities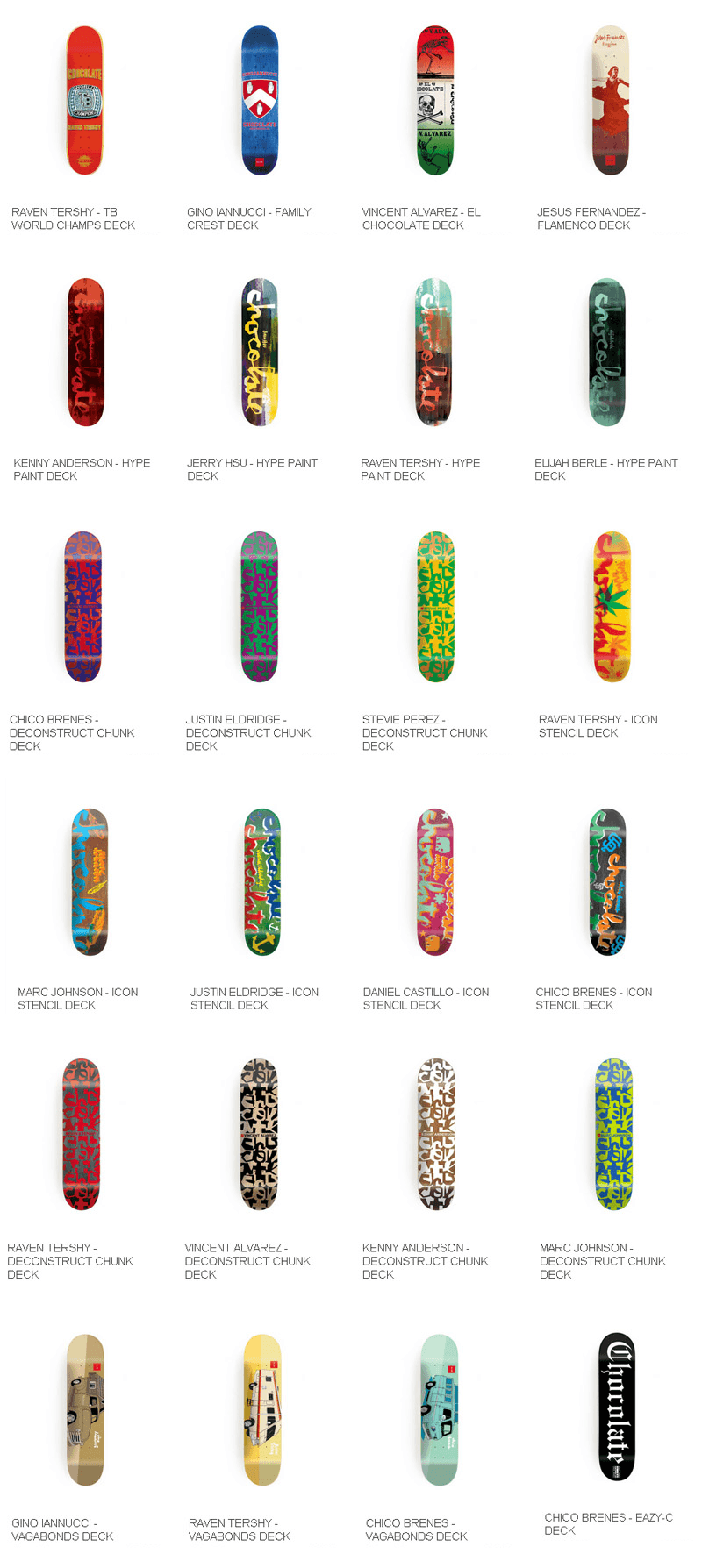 Raven Tershy – TB World Champs Deck, Gino Iannucci – Family Crest Deck, Vincent Alvarez – El Chocolate Deck, Jesus Fernandez – Flamenco Deck, Kenny Anderson – Hype Paint Deck, Jerry Hsu – Hype Paint Deck, Raven Tershy – Hype Paint Deck, Elijah Berle – Hype Paint Deck, Chico Brenes – Deconstruct Chunk Deck, Justin Eldridge – Deconstruct Chunk Deck, Stevie Perez – Deconstruct Chunk Deck, Raven Tershy – Icon Stencil Deck, Marc Johnson – Icon Stencil Deck, Justin Eldridge – Icon Stencil Deck, Daniel Castillo – Icon Stencil Deck, Chico Brenes – Icon Stencil Deck, Raven Tershy – Deconstruct Chunk Deck, Vincent Alvarez – Deconstruct Chunk Deck, Kenny Anderson – Deconstruct Chunk Deck, Marc Johnson – Deconstruct Chunk Deck, Gino Iannucci – Vagabonds Deck, Raven Tershy – Vagabonds Deck, Chico Brenes – Vagabonds Deck, Chico Brenes – Eazy-C Deck
2015 Decks: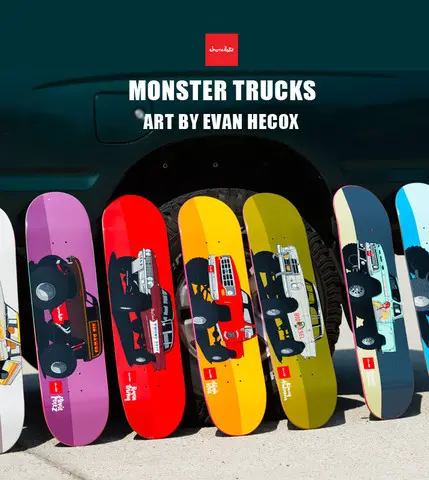 Monster Truck Full Series (individual decks available as well)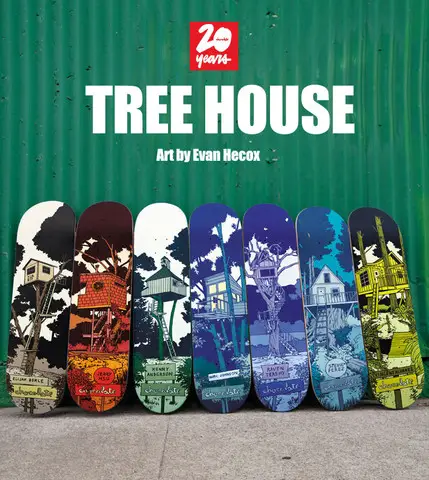 Tree House Full Series (individual decks available as well)

Vincent Alvarez – Lupitas, Stevie Perez – Lupitas, Raven Tershy – Lupitas, Marc Johnson – Lupitas, Kenny Anderson – Lupitas, Jerry Hsu – Lupitas, Elijah Berle – Lupitas, Chico Brenes – Lupitas

Elijah Berle – (Product) Red Deck, Raven Tershy – Subtle Square Deck, Kenny Anderson – Bomber Deck, RAVEN TERSHY – RIDER PATCH , ELIJAH BERLE – RIDER PATCH, VINCENT ALVAREZ – RIDER, STEVIE PEREZ – RIDER PATCH, MARC JOHNSON – RIDER PATCH

KENNY ANDERSON – RIDER PATCH DECK, JERRY HSU – RIDER PATCH DECK, ELIJAH BERLE – RIDER PATCH DECK, CHOCOLATE X DQM DECK, ELIJAH BERLE – HIGH DESERT, RAVEN TERSHY – HIGH DESERT, STEVIE PEREZ – HIGH DESERT, JERRY HSU – HIGH DESERT DECK, MARC JOHNSON – HIGH DESERT

STEVIE PEREZ – HERITAGE DECK, KENNY ANDERSON – HERITAGE DECK, JUSTIN ELDRIDGE – HERITAGE DECK, VINCENT ALVAREZ – SKETCH DECK, KENNY ANDERSON – SKETCH DECK, STEVIE PEREZ – 2014 CITY DECK, KENNY ANDERSON – (PRODUCT)RED DECK, KENNY ANDERSON – (PRODUCT)RED DECK
Older Decks