Plan B Skateboards
–
OG NEON Skate Deck-8.0″ BLK/WHT/YEL/BLU
. You can't go wrong with this deck!
Pick it up today
.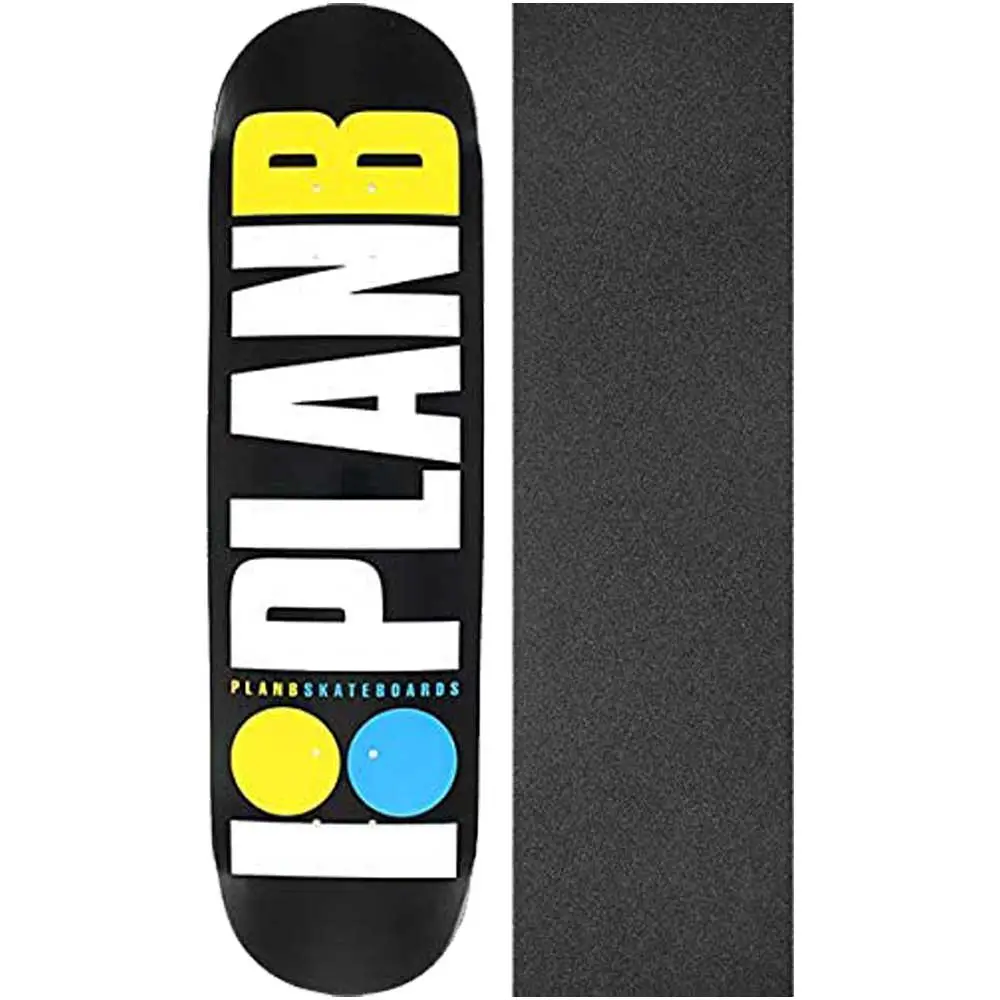 Plan B is probably the most interesting story in skateboarding history. Plan B started in the early 1990s. It was the first company based on the "super team" theory. The idea was to gather the top skaters of the day and create a brand around them. Plan B was also the first company to really push the team video as a way to push skateboarding boundaries to help solidify brand dominance. Unfortunately, Mike Ternasky (the creator of Plan B) passed away in a car accident and the company slowly fell apart.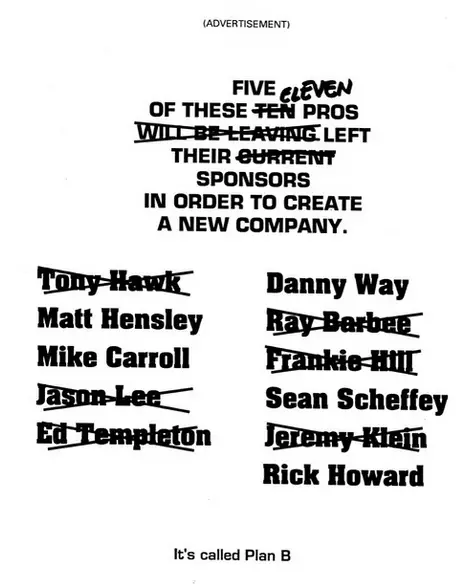 One of the original Plan B ads talking about how they are stealing skaters to create a super company…
Years later, Danny Way and Colin McKay decided to bring Plan B back. Using the same strategy as the original Plan B, they recruited the top skaters from around the industry. Again, this trick worked like a charm and Plan B is just as awesome was it was back in the early 1990s. What an awesome way to respect the deceased!
Company Website: planbskateboards.com
Instagram: @planbofficial
Decks for 2014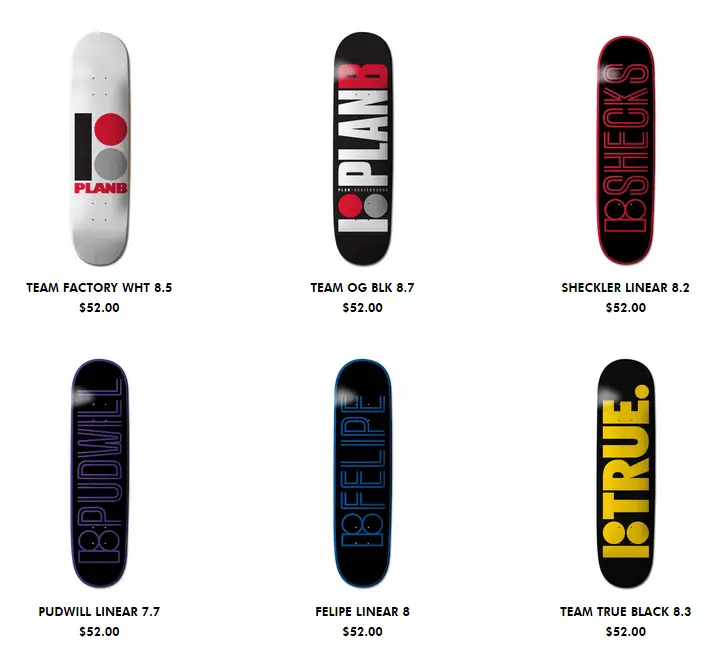 Team Factory WHT 8.5, Team OG BLK 8.7, Sheckler Linear 8.2, Pudwill Linear 7.7, Felipe Linear 8, Team True Black 8.2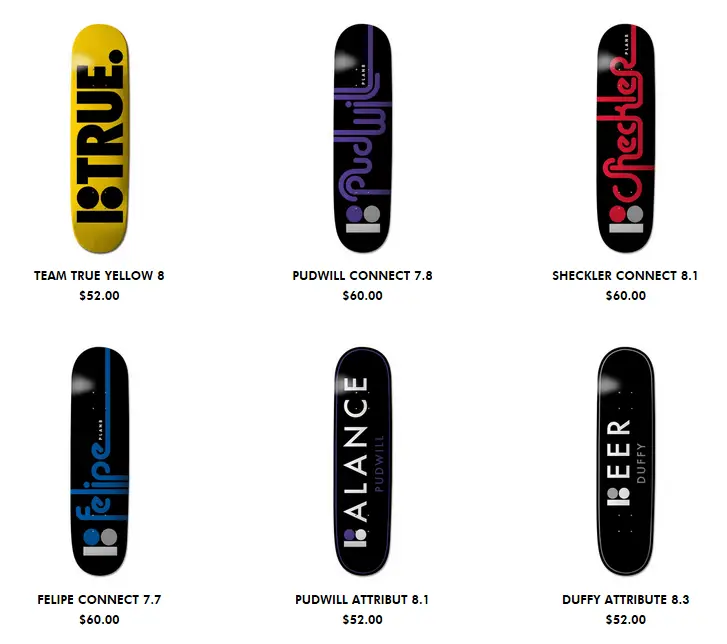 Team True Yellow 8, Pudwill Connect 7.8, Sheckler Connect 8.1, Felipe Connect 7.7, Pudwill Attribut 8.1, Duffy Attribute 8.3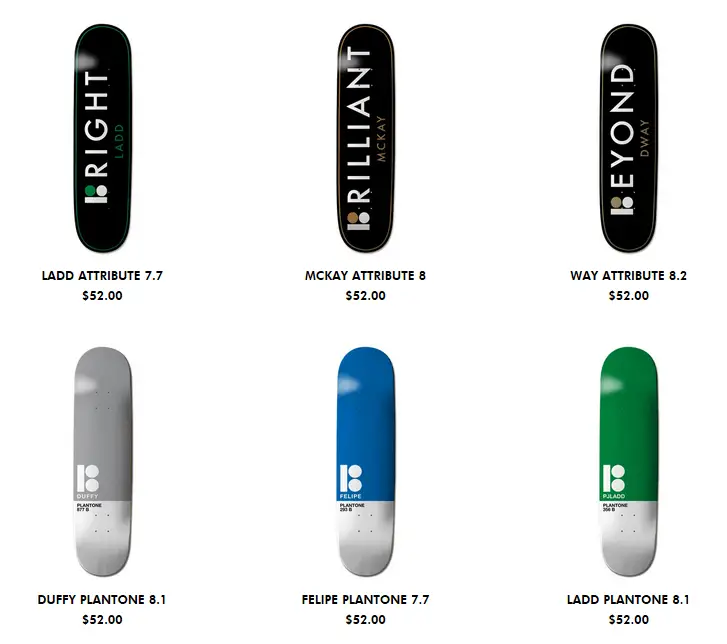 Ladd Attribute 7.7, McKay Attribute 8, Way Attribute 8.2, Duffy Plantone 8.1, Felipe Plantone 7.7, Ladd Plantone 8.1
Pudwill Step 8.1, Sheckler Step 8.1, Felipe Slanted 8.1, Ladd Slanted 8.1, Sheckler Slanted 7.7, Sheckler Jagged 7.7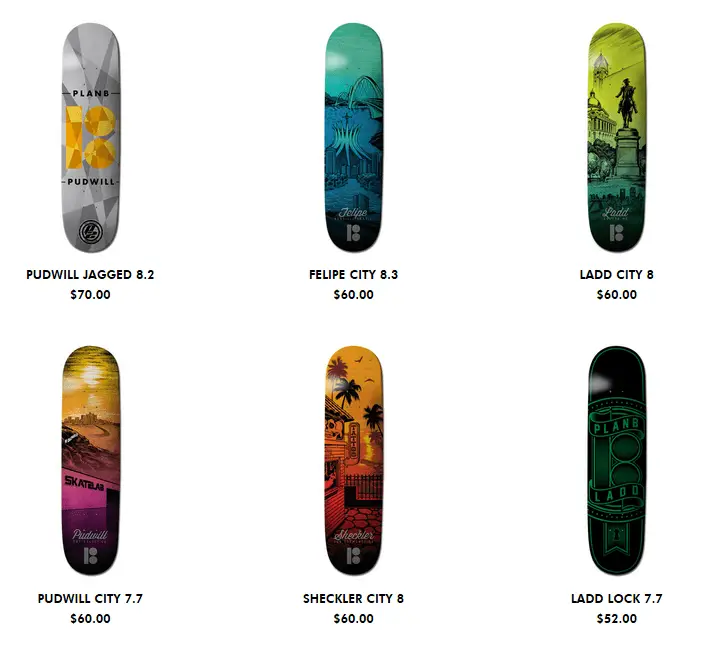 Pudwill Jagged 8.2, Felipe City 8.3, Ladd City 8, Pudwill City 7.7, Sheckler City 8, Ladd Lock 7.7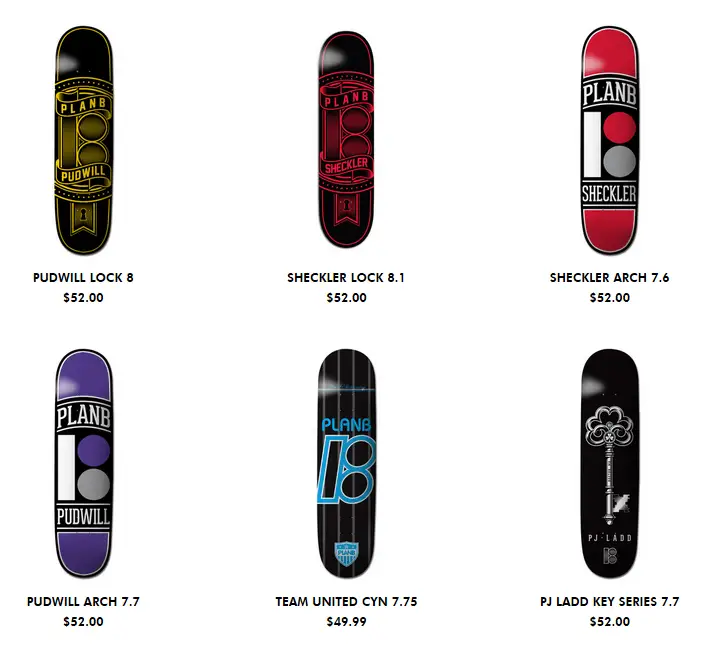 Pudwill Lock 8, Sheckler Lock 8.1, Sheckler Arch 7.6, Pudwill Arch 7.7, Team United Cyn 7.75, PJ Ladd Key Series 7.7
McKay Ganesh 8.1, Duffy Spirit 8.3, Team Massive 8.3, Team OG 8.25, Team OG 7.625, Plan B Branch Camo Board 8.2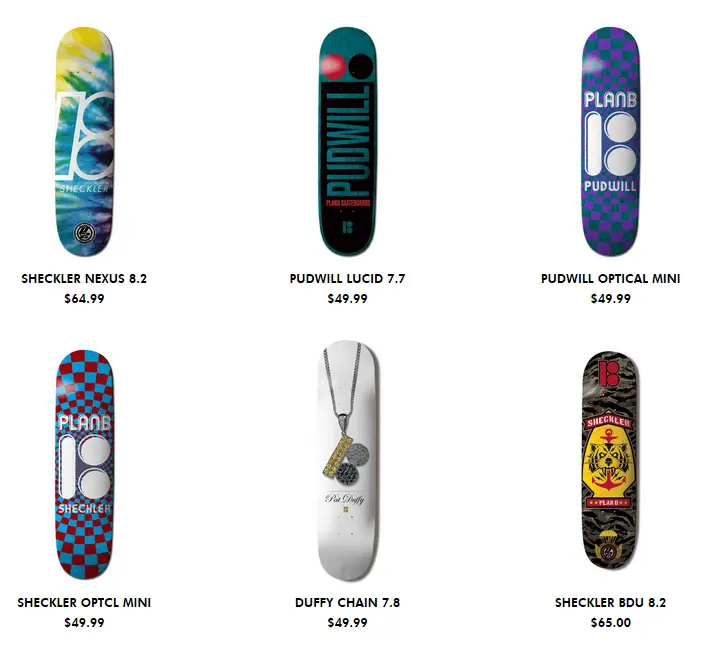 Sheckler Nexus 8.2, Pudwill Lucid 7.7, Pudwill Optical Mini, Sheckler Optcl Mini, Duffy Chain 7.8, Sheckler BDU 8.2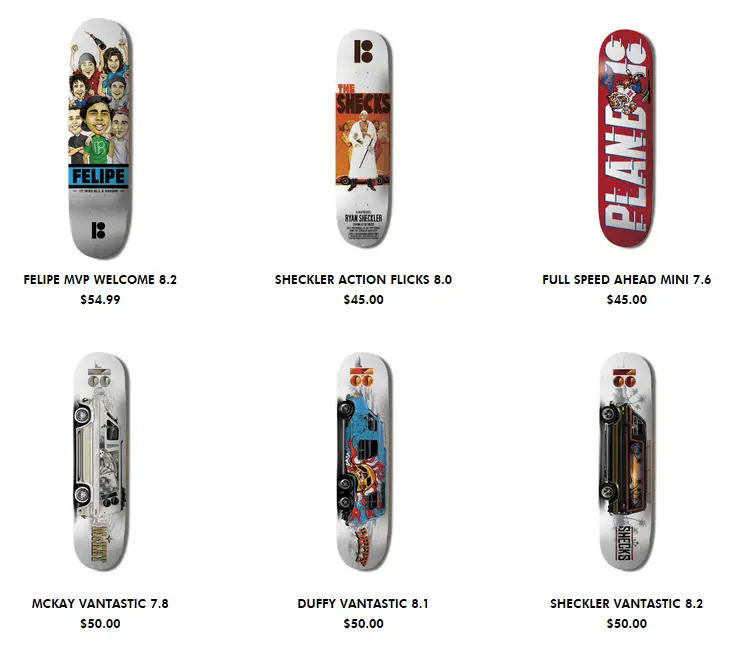 Felipe MVP Welcome 8.2, Sheckler Action Flicks 8.0, Full Speed Ahead Mini 7.6, McKay Vantastic 7.8, Duffy Vantastic 8.1, Sheckler Vantastic 8.1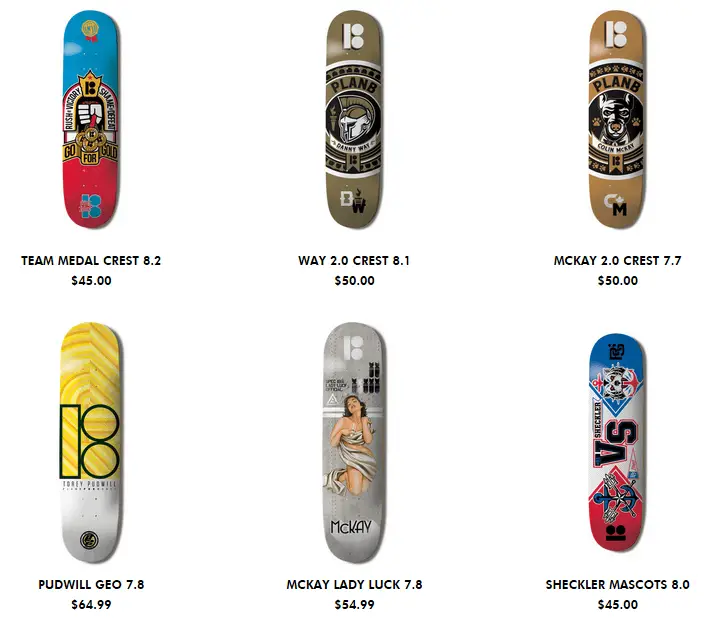 Team Medal Crest 8.2, Way 2.0 Crest 8.1, McKay 2.0 Crest 7.7, Pudwill Geo 7.8, McKay Lady Luck 7.8, Sheckler Mascots 8.0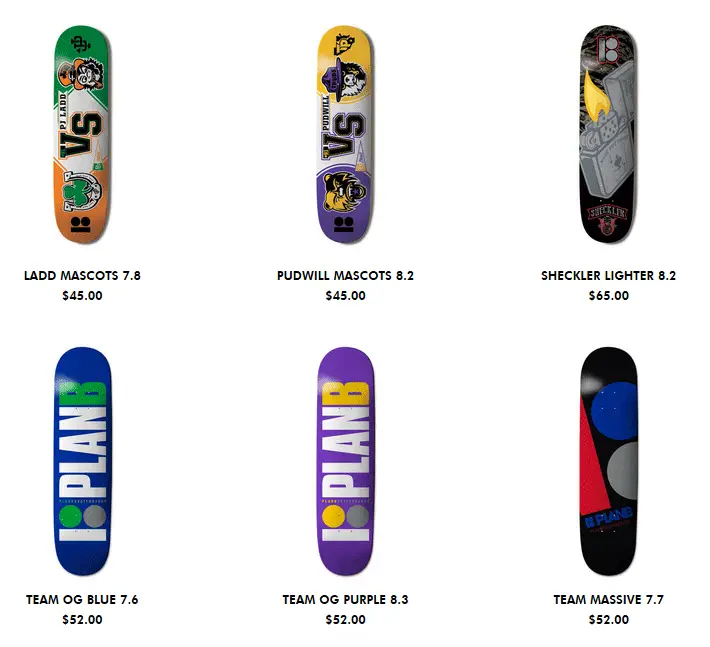 Ladd Mascots 7.8, Pudwill Mascots 8.2, Sheckler Lighter 8.2, Team OG Blue 7.6, Team OG Purple 8.3,Team Massive 7.7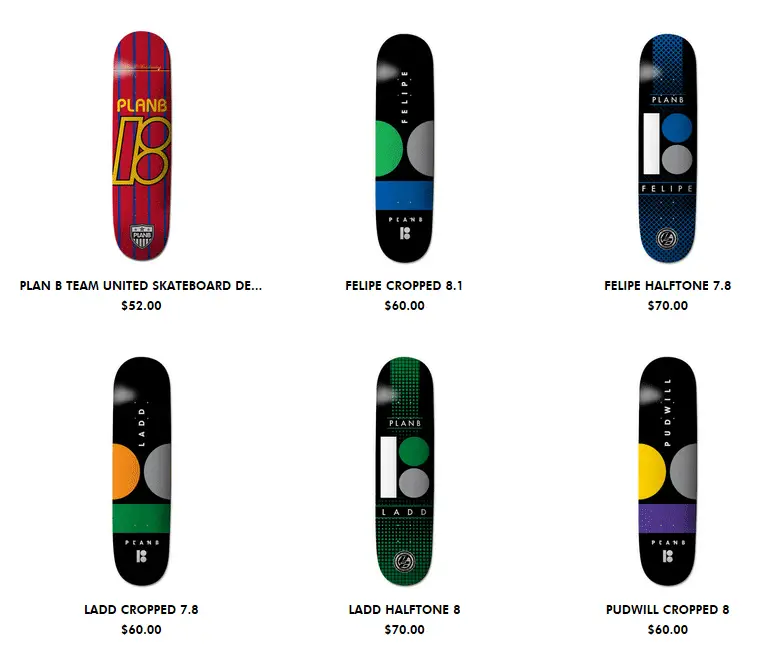 Plan B Team United Skateboard Deck, Felipe Cropped 8.1, Felipe Halftone 7.8, Ladd Cropped 7.8, Ladd Halftone 8, Pudwill Cropped 8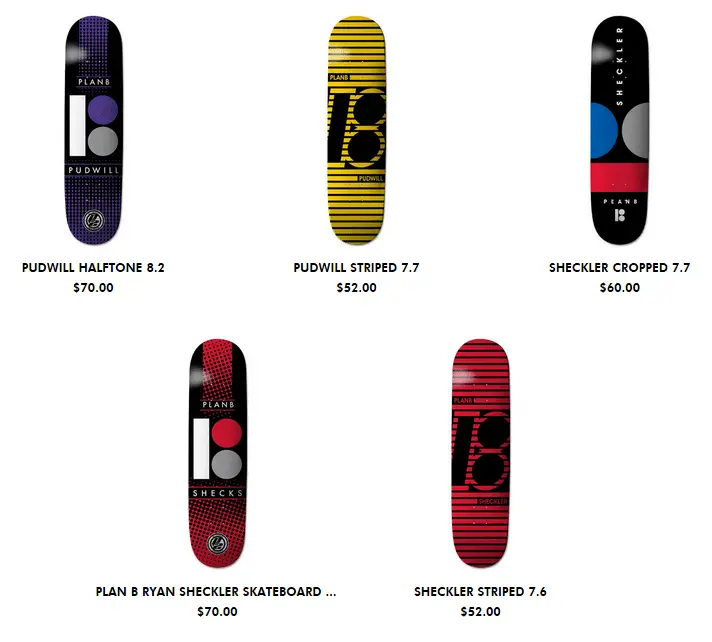 Pudwill Halftone 8.2, Pudwill Striped 7.7, Sheckler Cropped 7.7, Plan B Ryan Sheckler Skateboard deck, Sheckler Deck 7.6
Plan B Skateboards Decks from 2009