Can you consider Chucks skate shoes?
Well, kinda.
I mean, tons of skaters have skated in Chucks over the years. Even before there were Jordans – people were skating in Chuck Taylors.
Partly because of the skate / punk fashion cross over, but more than anything, Chucks were pretty cheap back in the day.
I used to go to the Converse outlet in Venice, CA to buy Chucks. And back then they were $9.99 a pair (the Hi-Tops). So you'd skate in the because they were the shoes you had on your feet. There wasn't really a skate shoe industry either at this time.
Are Chuck Taylors Good To Skate In?
Of course, this is a matter of preference. I'm sure there are skateboarders out there that will swear by them (probably not THAT many – but still a few). Some people like how they flex and even the way they grip. I'd have to say they're probably not the greatest for ankle support, protecting against heel bruising, or the proper bashing your board can inflict on your feet and ankles.
How Do Chucks Fair As Skate Shoes?
Not great. Chuck Taylors are made out of canvas and usually rip as soon as you ollie. You may like skating in them. They may feel good to skate in. But after a week, they're pretty much done.
If you're a pool skater, there's a chance they'll last a bit longer since you're not going to be ollieing as much.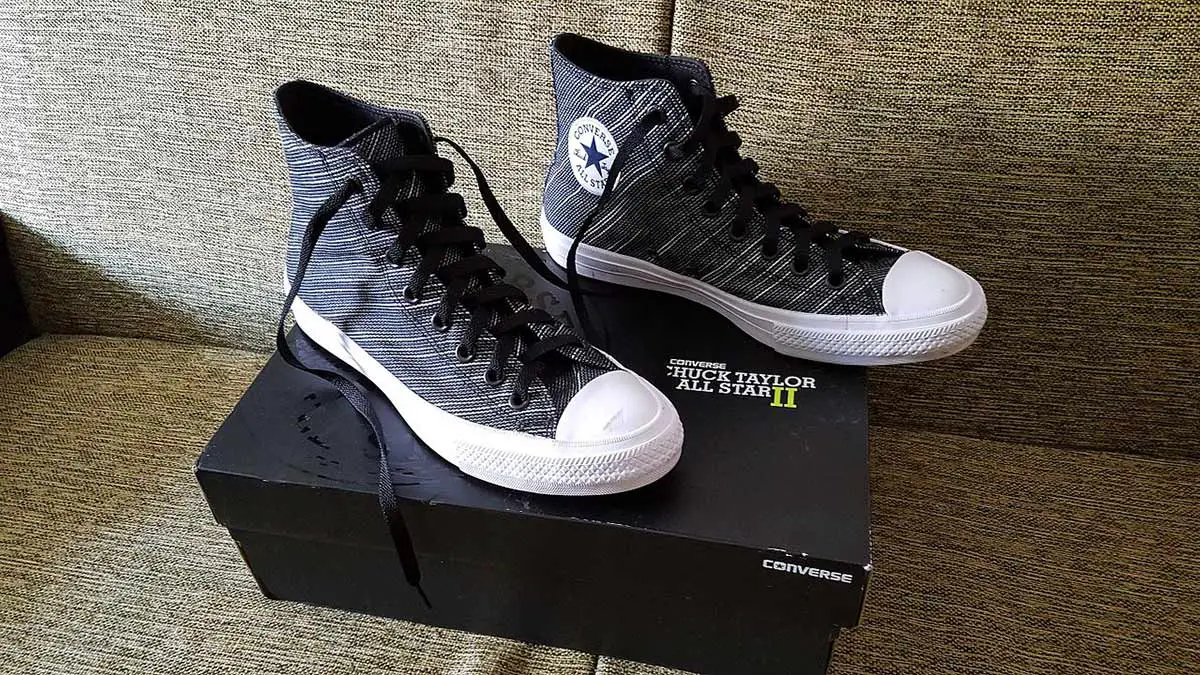 A Hack To Protect Your Chuck Taylor All Stars
I used to make my own leather ollie guard for my shoes. What'd I do is cut out a triangular piece of leather, punch a hole in one end and lace it into my shoe laces near the front of my foot. Then I'd use something like a sheet metal screw and screw the other side into my sole. That's make a nice ollie protector that would last a pretty long time!
Current Converse Skate Shoe Models
Chuck 70 Vintage Canvas
Chuck Taylor All Star Pro Mid Renew Canvas
CONS Chuck Taylor All Star Pro Suede
CONS Fastbreak Pro Sage
CONS Louie Lopez Pro
CONS Louie Lopez Pro Mid
CONS One Star Pro Suede
CONS PL Vulc Pro
CONS PL Vulc Pro Suede
One Star Pro Vintage Suede
One Star Pro Sean Pablo
Converse Pro Team
This is a list of current and former team members.
Aaron Herrington
Alexis Sablone
Ben Raemers
Brian Delatorre
Bobby De Keyzer
Eli Reed
Jake Johnson
Kaue Cossa
Kevin Rodrigues
Louie Lopez
Mike Anderson
Milton Martinez
Raney Beres
Sage Elsesser
Sammy Baca
Sean Pablo
Tommy Guerrero
Tom Remillard
Zered Bassett