Home >> Skater Profiles
Past Sponsors: Blind, Stereo
IMDB: Jason Lee
AKA: My Name is Earl
Jason Lee
–
Stereo Skateboards Jason Lee Aviator Skateboard Deck, 8
. You can't go wrong with this deck!
Pick it up today
.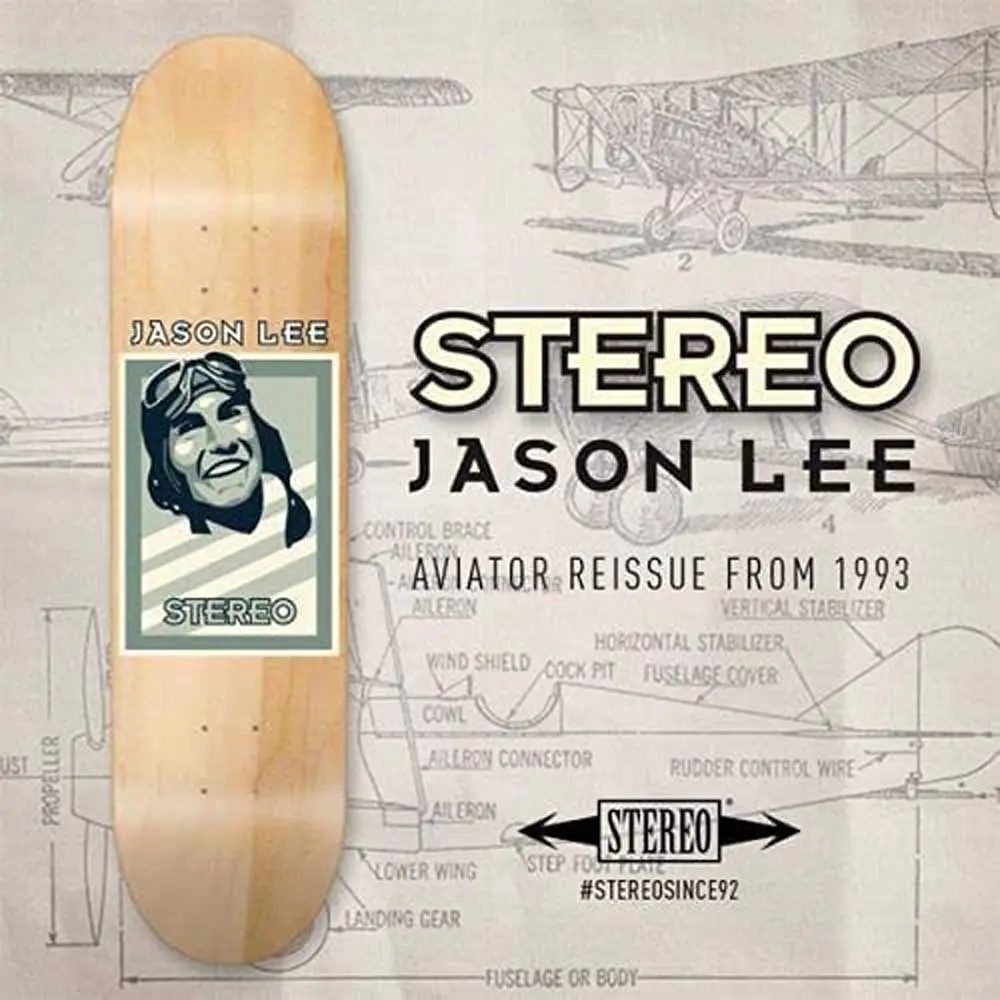 Jason Lee is THE pro skater turned celebrity actor. Kinda. Like, I'm not sure you could give him celebrity status just yet. I guess they call that the "B List" right? But I'm sure has respect for himself to not DO the things you NEED to do to be A List.
Jason and his buddy Chris Pastras started Stereo Skateboards in 1992. It went strong for a few years. They had the legendary Ethan Fowler on their team and somewhere in the mid 1990s, skateboarding went into another dark ages for a couple year and it seems like they killed the project.
The 3 Flip Myth Thingy
Anyway, Jason Lee invented the motherfuckin' 3 flip! I think… I think that's what I heard. So when you think about all his bullshit acting gigs, his real contribution to the world is the 360 kickflip. That's a huge deal. That's like THE trick. I'm doing THE a lot today. Sorry.
But seriously. One could say that the 3 flip is a foundational piece of skateboarding. People are judged by how well they 3 flip. Like you could be doing switch smith grinds down 15 stair handrails, but if your 3 flip sucks, you'll never go pro. And you'd be like, "Fuck you Jason Lee for inventing the 3 flip. You ruined my career!"
Those are literally the words that would come out of your mouth.
UPDATE: I'm starting to think he didn't invent the 3-flip. It was probably Rodney Mullen. Sorry about that folks! Whoops. My bad 🙂 !
Stereo Skateboards Comes Back
After about a 8 year hiatus Jason Lee decided to re-launch Stereo Skateboards with his long time friend Chris Pastras. And honestly, at the time, we were like "this ain't going to last". Basically, back then (2003/2004) the number of board brands in skateboarding was like a gazillion. BUT! They made it work. Which is pretty awesome – because they have a pretty sick brand (I personally have a boner for mid century graphic design and that's basically Stereo in a nutshell).
But what's really cool is Jason returned to something he was passionate about: skateboarding. He could have ignored skating and went on with his Hollywood lifestyle – but instead he's been an active contributor to the skateboarding community.
Video Parts
Tincan Folklore
Blind Video Days
A Visual Sound – 1994
Jason Lee in an Airwalk Promo Video – circa 1995
Jason Lee – 411VM #65
Way Out East
Wednesdays With Reda Throwback – Jason Lee
Jason Lee Cruisin' New Orleans in Stereophonic Sound: Volume 3
Jason Lee Skateboarding Before Acting
Skateboarding Hall of Fame 2019 Inductee: Jason Lee
Jason Lee's Best Skateboarding Trick | People
Spoilers with Kevin Smith: Interview with Jason Lee
Jason Lee Skateboard Decks From Years Past

Jason Lee Burger Board

Jason Lee God, Guns, and 'Merica! Deck

Jason Guess Model Deck

Jason Grinch Skateboard Deck

Jason Cartoon Rooster Deck

Jason Lee Blues Deck
Jason Lee Swiss Skateboard Deck

Bowden Deck

Stereo Jason Lee Tim Kerr Guest Deck

Stereo Jason Lee Jazz 101