Home >> Skater Profiles
Current Sponsors: DC Shoes, Plan B, Nixon, Independent, Jessup, Capix
Past Sponsors: Hosoi, Vision, H-Street, Blind
Instagram: @dannyway
Twitter: @dannyway
Danny Way
–
Blind Skateboard Deck Danny Way Nuke Yellow 8.375″ x 32.2″
. You can't go wrong with this deck!
Pick it up today
.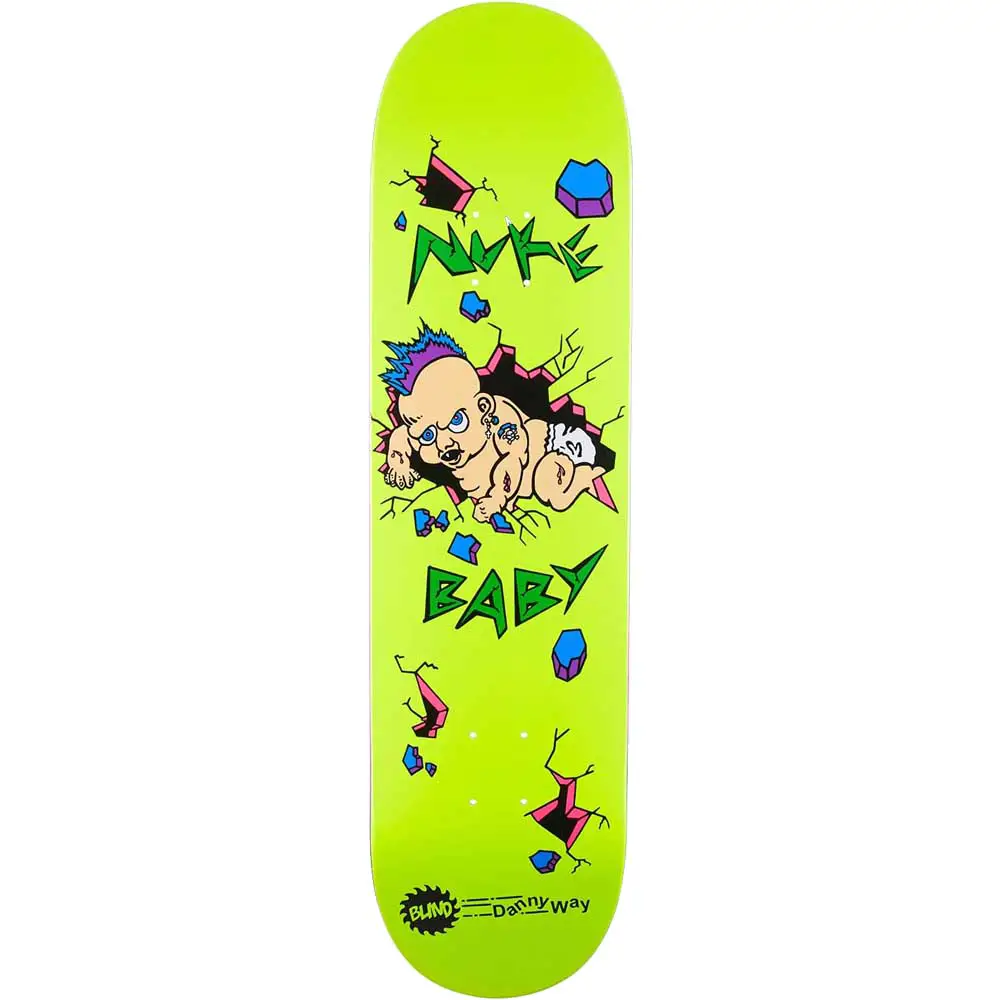 Danny Way. Where do we begin? He is like skateboarding's super man. No one in skateboarding has sacrificed more of their body than Danny Way (well that's what comes to mind as I write this). He has had numerous visits to the hospital, broken a lot of bones and has had plenty of reconstructive surgeries.
Danny Way DC Video
Danny Way was on of the original members of the first Plan B Skateboards team in the early 1990s. After the death of Mike Ternasky, the original Plan B owner, Danny Way and Colin McKay tried to continue operating Plan B as a viable business throughout the mid 1990s. Facing the troubles of having to be both professional skateboarders (going on tour, getting footage, injuries) and business owners, they decided to call it quits in the mid 1990s.
After Plan B's first collapse, Danny spent most of his time honing his vert skills. He became the most popular vert skateboarders since Tony Hawk and broke numerous records. Danny was the first skateboarder to drop into a vert ramp out of a helicopter. He also began clearing enormous distances via the Mega Ramp. He even jumped over the Great Wall of China on a skateboard.
Danny Way Great Wall of China
A lot of this amazing skateboarding was captured in the 2003 DC Video. Danny Way had the last part in this video and instantly became a skateboarding super star. DC Shoes has been a huge promoter of Danny Way for several years now.
In the mid 2000s, Danny Way and Colin Mckay relaunched Plan B Skateboards for the second time.
Factoids: When Danny Way did a heelflip lipslide on a rail that was perched seven stories high, Jim Greco was quoted as saying "To think I get worried about doing that trick on a seven stair handrail". The first Skateboard Mag issue cover was about Danny Way.
Video Parts
Danny's Part in Plan B's Questionable
Danny's Part in Plan B's Virtual Reality
Danny Way Beyond Measure: Full Broadcast | World Of X Games
Danny Way: BEING | X Games
Danny Way And The Highest Air Ever
Real Skate Stories Presents: Danny Way- Raw Camera Tapes From Speed Freaks Santa Cruz Speed Wheels
Danny Way's first pro contest win, Michigan 1989
Unseen Danny Way Street Footage
Waiting for Lightning (2012) | Full Movie
Danny Way Talks Slayer, Hosoi, Waiting For Lightning, and more on Free Lunch
Danny Way's Pro Model Skateboard Decks

Way Plan B "Mint" Deck

Flight School 8.375″ Deck

Plan B Vantastic 8.25″ Deck

Exploration 8″ Deck

Blind Re-Issue OC Bladerunners 9.75″

Plan B Danny Way Crest 8.125″

Danny Way H-Street Giant

Way Plan B Public 8.0

Way Plan B Shells Deck

Way Plan B D-Way Deck