Home >> Skater Profiles
Dustin Dollin understands what a real skateboarder is.

What I think Dustin Dollin was saying is that their are a bunch of skateboarders who don't land the tricks in their photos. I think this is common practice these days. Now that I think of if, every Dustin Dollin photo I have ever seen is a sequence.
Dustin Dollin at Hollywood High – Baker 3
I will never forget Baker Bootleg, where there is a scene of Dustin Dollin screaming into the camera. It is the most high pitched noise ever recorded by a camera. The Dustin Dollin PD logo deck has been very popular at El Skate Shop.
10 Things I Hate Ft. Dustin Dollin
Dustin Dollin – Baker 4
Dustin Dollin Carwash Part 1
Dustin Dollin | The Nine Club With Chris Roberts
Dustin Dollin Raw 7 Day Weekend
Dustin Dollin's "Propeller" Raw files
Dustin Dollins 7 Day Weekend The Movie
Epicly Later'd(Dustin Dollin)
Dustin Dollin Shake Junt
10 Things I Hate Ft. Dustin Dollin
Dustin Dollin Skateboard Decks From Years Past

Baker Dollin Skullbowl

Baker Dollin Divine

Dollin Video Grab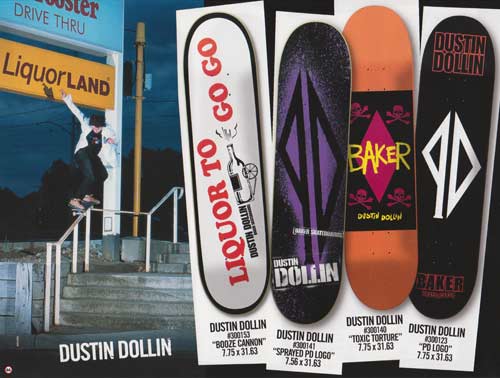 Dollin Video Grab
On Social:
Facebook page: facebook.com/DustinDollinpd
Twitter: twitter.com/dustindollin1
Instagram: instagram.com/therealdustindollin
YouTube: youtube.com/user/pissdrunx4ever
Sponsors (Current & Past)