Mark Gonzales is THE Godfather of street skating.
He represents the pure spirit of the street skateboarder. He does it for the love and fun of it – and it shows in every turn, ollie and smile that vibrates like electromagnetic radiation, pilfering your body with Gonz particles – all traveling at the speed of Gonz.
When you skate all day, take buses, cross cities, sleep anywhere, survive off snickers and coca-cola – eat, breathe, skate, live, exist and never trip out on anything – THEN you've reached a spiritual level I called "Gonz".
When you're having a great day skating, you're "gonzin right now".
June 21st – the longest day of the year – International Skateboarding Day – on that day you should be "gonzin" all day long.
Gonz History
Nothing in the skate universe is more ironic than where Mark started: Vision Skateboards. Vision was one of the "Big 3" skate companies from the 1980s (Powell Peralta and Santa Cruz being the other two) that dominated the industry. It was kind of like the skateboarding Cold War. There were three super powers and they controlled all.
Vision, in particular, was known to be somewhat rigid for a skate company back then. Reflecting on this now, it's crazy to think Mark started on a company that was such a polar opposite in terms of personality. Don't get me wrong, the image Vision put out was all crazy 80s stuff, but the company itself was entirely different.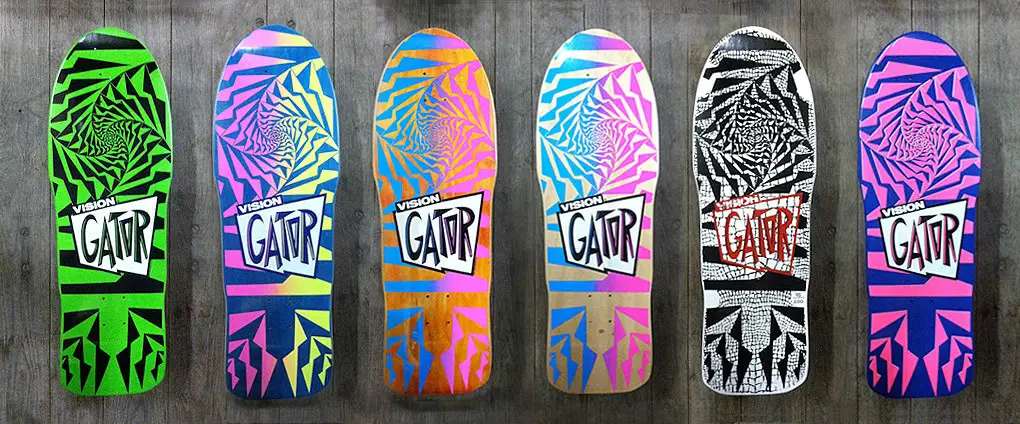 An example of Vision's crazy 80s image..
But Mark was just a kid then, and I'm sure he was just stoked to be pro for a skateboard company. It's an easy trap to fall into.
Mark was single-highhandedly dominated street skating contests and virtually owned the street skateboarding scene. Luckily, there weren't many other people in the street skating scene at the time – even if there were, they would have been no match for the Gonz. Additionally, between him and Gator, they were the two pros that Vision Skateboards was known for. So life was pretty good for Mark in the 1980s.
Then one day (probably back around 1990 or 1991), Mark approached Steve Rocco. He wanted to start a new board company called Blind. Steve Rocco asked Mark, "Why do you want to call it Blind?" Mark replied:
"It's the opposite of Vision"
And like that Blind Skateboards was born. Ironically, after only a few years, Mark decided to leave Blind and start ATM. And that didn't last long either. Just a couple of years. He moved from ATM to Real Skateboards, which was his home for the rest of the 1990s.
In 2002, Mark launched Krooked Skateboards. Surprisingly, Krooked has been a quite popular skateboard brand and has a great run. All the boards have the Gonz touch in terms of art – which makes is super unique compared to most board companies. Stare at a Krooked board and you'll stop taking life too seriously :).
Important Gonz Skate Spots
The Gonz Gap – A famous spot in San Francisco, located at the beginning of Market Street. Gonz ollied it in 1986, which at the time, seemed impossible. Probably the first major "make" (or hammer) of street skateboarding.
Wallenberg – Another spot in San Francisco. It's a really spaced out 4-set. In Video Days (below), you'll see him ollie it. It took years before anyone ever did another trick there after that ollie.
Classic Gonz Video Parts
Random Interview…but totally explains Gonzism
Blind Video Days
Real Non-Fiction
30th Anniversary Interviews: Mark Gonzales – TransWorld SKATEboarding
Krooked Kronichles
Mark Gonzales interview
"The Legend," Mark Gonzales Finds Perfect Balance in Fine Art and Skateboarding | HYPEBEAST Diaries
Classics: Mark Gonzales
Mark Gonzales – Weekend with the Gonz
The Gonz Abides: Art Supply Shopping & $1 Pizzas with Mark Gonzales
The Mark Gonzales Ride Short Documentary
MemoryScreen #10: Mark Gonzales
Mark Gonzales Decks From Years Past

Krooked Mark Gonzales Burger Deck

Krooked Dos Lunas Mark Gonzales

Mark Gonz 3D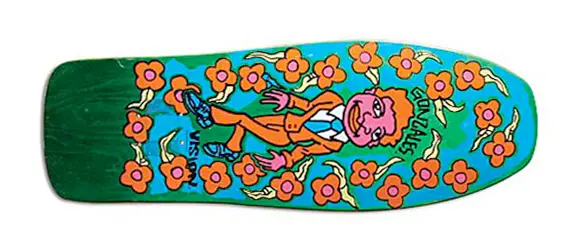 Vision Mark Gonzales Flowers Suit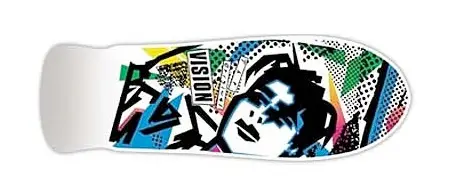 Vision Gonz 1980s Deck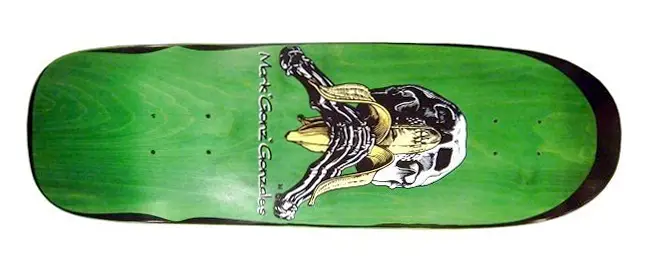 Blind Gonz Banana Skull

Mark Gonzales Comburo Skateboard Deck
Mark Gonzales Sk8loco Deck

Mark Gonzales 6 Foot Skateboard Deck

Mark Gonzales Awkward
Sponsors (Current & Past)
Adidas
Spitfire
Independent
Supreme
Pro-Tec
Bones Bearings
Four Star